Event management organizations rely a lot on inventory for doing the business. For that, they perform inventory management activities regularly. During inventory management, they also face many unusual challenges. GOIS Pro offers many user-friendly and quality-driven inventory management features, which tackle the entire challenge of event management organizations.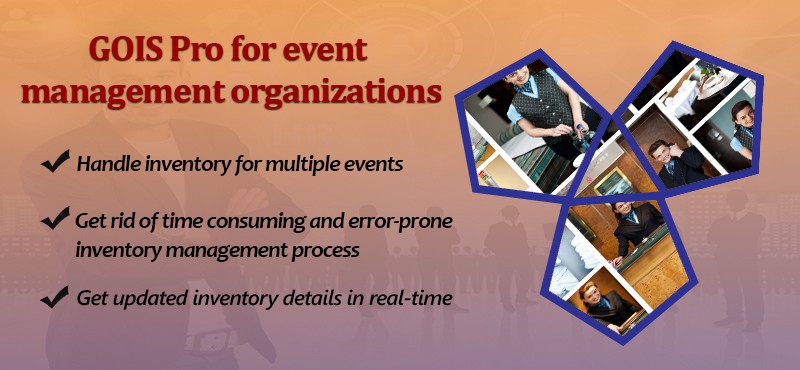 Before looking at these features, and how they tackle event management organizations' challenges, let us have a look at few of the key challenges of event management organizations. These challenges are as follows:
Their inventory management processes are time consuming and error prone. This happens because they have to organize different types of events, such as marriage event, sports event, college function, and many more.
Sometimes they have to do inventory management activities while organizing an event, but without systems and internet. For example, they fell short of inventory, when the event is in a place, which is far from their offices. To organize the event, they need to buy stocks from a nearby place, and they have to create purchase orders and maintain orders records.
Some of the inventory management systems don't update inventory details in real-time. This, in turn, creates problems in organizing multiple events. Since one of the events utilizes most of the inventory, and they are not aware of it. The result is that they do not have enough inventory for organizing other events.
GOIS Pro – an innovative and highly customizable inventory management solution, offers many reliable features, which comfortably tackle the challenges being faced by event management organizations. Let's see how:
GOIS Pro's barcode scanning feature helps event management organizations to skip error-prone and manual inventory management work. This feature on mobile app allows users to handle inventory through smartphone and tablet camera.
GOIS Pro is accessible online as well as offline through its app, which allows event management organizations to manage the inventory without using systems, i.e. by using smartphones and tablets, even from places where internet is not available.
GOIS Pro's real-time data synchronization feature updates inventory details immediately. This feature with multi-user accessibility feature helps event management organizations in managing multiple events.
Other features of GOIS Pro, which can help event management organizations are:
Purchase orders and sales orders management
Cloud-based inventory management solution
Vendor management
Reports exporting/importing
24×7 technical support from experts
Apart from event management organizations, camping organizations too face similar challenges in inventory management. GOIS Pro handy features help them to tackle their challenges too.
To get more info on this topic, please chat with our experts !