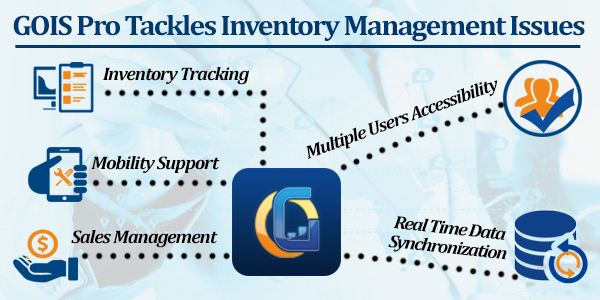 It is usual for organizations from service and support industry to work throughout the day. Their support teams keep on traveling with the trucks having a number of goods and other items, from one place to the other, to resolve customer issues. While performing their jobs, these organizations face various issues in managing their inventory.
The owners of these organizations have limited knowledge of regarding the details of the inventory, e.g. the owners find difficult to know about the items that the support teams are carrying with them, also when, where and how many items are being used.
GOIS Pro (Goods Order Inventory System Pro) comes to the rescue of these recurring issues before the owners. It provides innovative and highly customizable solution to inventory management needs of organizations, especially from service and support industry.
Let's see in detail how GOIS Pro assists these organizations in managing their inventory.
How GOIS Pro can add value to service and support industry inventory management?
Inventory tracking:
The support team travels a lot to resolve customer issues which makes it difficult for their owner (owners) to track the inventory. GOIS Pro provides advanced tracking features which help the owner to track the inventory whenever required. By using GOIS Pro, owners can also track the complete history and along with the current status of inventory.
Mobile online and offline support:
It is generally difficult for support teams to add, edit and delete the inventory details at a glance, because they mostly don't carry systems with them. GOIS Pro tackles this problem by providing mobile app, which is accessible online as well as offline. This app allows support teams to manage inventory, anywhere and anytime, from their mobile devices. Not only this, GOIS Pro mobile app also helps the owner to view the inventory details simultaneously.
Recently, GOIS Pro has enhanced its mobile app by adding a new feature known as Quick Scan. This feature allows the user to track inventory, stock transfers, stock adjustments, and many more.
Real time data synchronization:
GOIS Pro real time data synchronization feature plays a vital role in the proper inventory management of such organizations. It is because people in these organizations work at different locations and it is important for them to know in real time what transactions are being done in the inventory. At the same time, this feature also helps the owner and support team, in maintaining coordination over inventory management.
Sales management:
Support teams need to create sales order and they also need to manage sales order records. GOIS Pro comes with effective sales management which helps support teams to quickly create sales order, punch sales order, dispatch sales order, and many more.
Accessibility by multiple users:
GOIS Pro provides multiple access, which helps multiple employees from different departments and the owner of the organization, to work on inventory management simultaneously.
Summary
As we discussed above, Organizations from support and service industry, face many challenges in inventory management. To overcome these challenges, they can give a try to GOIS Pro, a feature-rich and reliable inventory management solution.
Apart from support and service industry, even support teams/departments from industries, like security, telecommunication, cable and satellite, and internet service provider, can also try GOIS Pro for the same reason.
GOIS Pro Download Links
Download Links-

To know more about this topic or to schedule a demo, please send us a message.
Goods Order Inventory System
MetaOption LLC
2500 Plaza 5, 25th Floor
Harborside Financial Center
Jersey City, NJ 07311
Phone: +1-888-745-3321
Email: support@goodsorderinventory.com
Visit – www.goodsorderinventory.com