GOIS Pro (Goods Order Inventory System Pro) currently has more than 50,000 subscribers worldwide, which include some of the biggest organizations across the industry. One of the main reasons behind its unbelievable success is its large numbers of qualitative features, especially feature like barcode scanning.
GOIS Pro barcode scanning feature is available on its web version, as well as on the app version. But this feature is much easy-to-use on the app, because it lets users to manage sales orders, purchase orders, products, stocks etc., by scanning products barcode directly through smartphone and tablet cameras. It can scan all major types of barcodes for inventory management, some of these barcodes are QR Code, Aztec Code, Code 39, Code 93 and many more.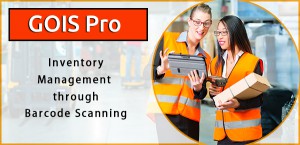 Let's see some of the important tasks of inventory management which can be completed in GOIS Pro through the barcode scanning feature.
Product management: Barcode scanning feature lets users to add, edit and delete products in their inventory by simply scanning products' barcode.
Raise purchase orders: Users can raise purchase orders by adding order's details and then adding products by scanning the barcode.
Create sales orders: Users need to scan products' barcode, which they want to add in the sales orders.
Stock management: GOIS Pro provides Quick Scan feature which lets users to manage stocks in their inventory easily. This feature lets users to add, adjust and transfer stocks by scanning stocks barcode.
GOIS Pro barcode scanning feature is as effective on web browser as it is on the app. But, to use it effectively on a web browser, users need to have a barcode scanning device.
Barcode scanning is a handy feature for inventory management, which lets users to perform all the major operations through mobile or tablet camera and barcode scanning device. Apart from this, GOIS Pro offers many other quality features which makes inventory management an easy work to do, features such as Quick Scan, multiple users support, report exporting/importing etc.
To know more about it, please talk to our experts!
Contact, Goods Order Inventory System Pro
MetaOption LLC
574 Newark Avenue, Suite 210
Jersey City, NJ 07306
Phone: +1 (201) 377-3150
Email: support@goodsorderinventory.com
Visit – www.goodsorderinventory.com