Managing optimal levels of inventory is an on-going process and a big challenge for any retail organization. For pharmaceutical retailers who operate as a chain, stores are located in different echelons of the enterprise's distribution network. In stores with multi-echelon networks, new product shipments are first stored in a central facility which acts as the internal supplier to the customer-facing stores. 
For large pharmaceutical wholesalers, distribution network has one regional distribution center (RDC) and multiple forward distribution centers (DCs). GOIS Pro facilitates operations in such conditions with the option to add multiple business units and stock keeping units (SKUs). 
Challenges in Managing Multi-Echelon Network
Inventory management in multi-echelon networks poses numerous challenges and complications which can be a hurdle to achieving network inventory optimization. It is essential to have a complete view of demand and supply when dealing with multiple echelons in different locations. Upper-echelon inventory replenishment decisions are based on the demand chain of the lower echelons and improper assessment can result in a mismatch of demand and supply. This could also result in – 
Single network carrying excess inventory as redundant safety stock

End customer service will be affected 

Customer facing locations will face stockouts despite there being adequate inventory

Vendor deliveries will be affected due to unsatisfactory demand projections
Pharmaceutical retailers deal with drugs with limited warranty and any loss of time will make the stock outdated and the only option would be to dispose it off. Such inventory cannot even be supplied at discounted rates to customers.
GOIS Pro for Managing Inventory in Multi-Echelon Pharmaceuticals
Inventory drivers can be controlled by the organization by reviewing the replenishment frequency, the supply order strategy and service level goal. GOIS Pro allows users to constantly monitor inventory management movement for all the echelons from the pharmacy workstation and also from remote access devices such as mobile devices and personal computers and laptops. This is possible since all inventory data is stored in a secure central server from where data can be accessed on the cloud.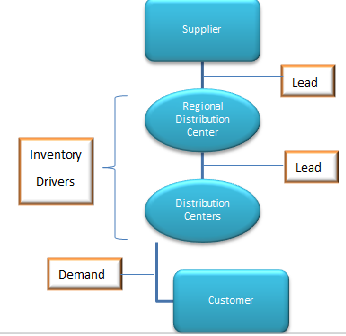 Figure: Multi-echelon Inventory Driver
Regional distribution center and distribution centers are the inventory drivers as the stock is pushed as per demand; the demand is generated by customers. Demand from customers can be seasonal as well as regular. For instance, the demand for medication for common cold and cough rises in the winter months while demand for sunscreen rises in summer.
Often lead for new products and expected demand is generated from the suppliers who have a larger picture of demand and supply of particular products. A comprehensive list of vendors and suppliers can be managed in the central database with complete contact details and notes can be added to specify particulars.
One big drawback of multi-echelon inventory management is the rise in transportation, warehouse and occupancy cost. GOIS Pro can be used to devise multi-echelon strategies to manage inventory and control distribution costs. It allows pharmacies to track real-time inventory status which can be used to estimate demand and supply requirements.