GOIS Pro is an innovative, user-friendly and reliable inventory management system. It offers a huge number of features, such as stock management, purchase order management, sales order management, vendor management, barcode scanning, and many more. Moreover, it keeps on upgrading these features on a regular basis. Therefore, there is a small probability that its users may face problems while accessing these features. To tackle these problems, GOIS Pro offers a comprehensive technical support with every license. This support is provided by a hard working team of experts.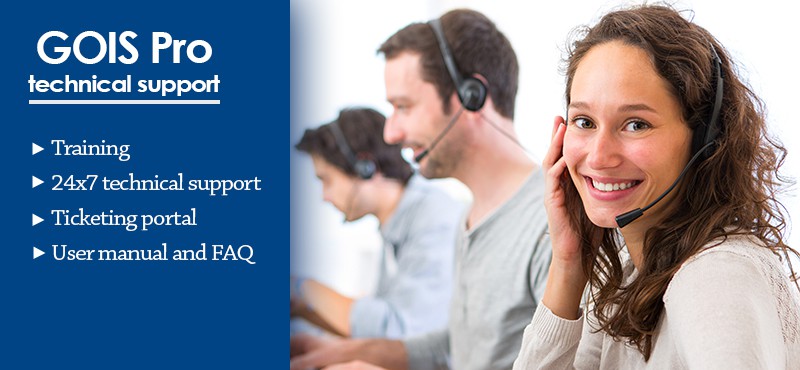 To its every user, GOIS Pro offers technical support, which includes training, 24×7 technical support (through email and voice call), ticketing portal, user manual, and many more.
Let's talk more about its technical support:
Training: It offers a complete training to every new user (technical as well as non-technical user). This training helps users to learn about all the important features.
24×7 technical support: The training is mostly enough for users to learn about all the quality features. If, even after that, they face any issue, then they can utilize 24×7 technical support from experts, either by emailing or calling them.
Ticketing portal: There is another way through which users can contact experts for resolving their issues. This way is known as ticketing portal. GOIS Pro offers ticketing portal within the system, which allows users to raise ticket to solve their issues. Users can also attach files in the ticket.
User manual and FAQ: GOIS Pro also provides user manual and FAQ, which users can use to learn about its updated features and to resolve their issues.
GOIS Pro offers online as well offline support to its every user for resolving their issues. Its support is thoroughly enjoyed by most of the customers. Here are few happy feedbacks from reputed customers regarding GOIS Pro assistance.
"We were looking for a system which gives us full support to meet our uncertain business requirements, we appreciate the post assistance GOIS PRO is providing to us" by Willet Dairy
"We appreciate GOIS PRO quick assistance whenever we get in trouble" by Viplandscaping
"What I really enjoy about GOIS Pro is their amazing and professional customer service. We decided to go with GOIS Pro because of its availability on a smartphone platform with a dedicated mobile app, and the subscription costs are reasonable too. GOIS Pro is helping us with placing more efficient orders and maintaining accuracy of inventory" by Empanada Guy.
For more information contact our consultants, click here.
Goods Order Inventory System
MetaOption LLC
2500 Plaza 5, 25th Floor
Harborside Financial Center
Jersey City, NJ 07311
Phone: +1-888-745-3321
Email: support@goodsorderinventory.com
Visit – www.goodsorderinventory.com