Business requirements are unpredictable, whether it is a small shop or any big company, each individual wishes to have a centralized system which is as smart as their business needs and as intelligent as to cater those needs by giving some flexibility to businesses.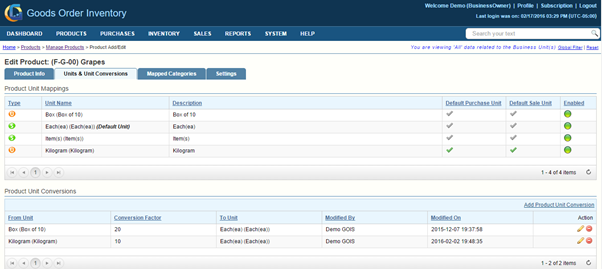 Further every business has their specific buying patterns, but what happens if your inventory system doesn't allow you to measure the products as you need per your business criteria? And how complex this situation will be for a business owner if you have to buy some products in bulk from a given vendor and sell in pieces to your customers but your inventory management system doesn't support that specific measurement unit?
To handle such scenarios and to enhance the smoothness of system, GOIS-PRO incorporated a feature that allows business owners to define their own measurement units to map with their products by defining a desired conversion factor.
GOIS-PRO offers two types of measurement units as System Defined and User Defined measurement units. System defined units has been given to every user (by default) and as per your business criteria, you may further add more measurement units that your business may require to map with products.
Moreover, user has the flexibility to map multiple units with each individual product which makes business owners life easier during purchasing and sales process. Now you may buy bulk quantities and can sell in bulk from your inventory by choosing your wish measuring unit against a product.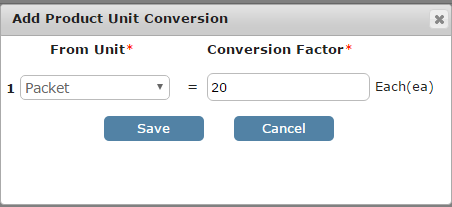 In GOIS following system of measurements for units are available:
1.      Metric
Predefined Unit Categories
All the standard system defined units available in GOIS has been classified into the following categories as:
1.      Mass
2.      Volume
3.      Length
4.      Area
5.      Quantity

User Defined Measurement Units
Execute your workflow as your business demands. Now create measurement units like 100 GM Pack, 500 GM Pack, 1 Pallet, Box of 10, Bunch of 100, etc. and increase the productivity quickly to get rid of manual counting process.

Packets
·    P1 (Packet Type 1)   Smallest Packet
·    P2 (Packet Type 2)   Small Packet
·    P3 (Packet Type 3)   Medium Packet
·    P4 (Packet Type 4)   Large Packet
·    P5 (Packet Type 5)   Largest Packet
Boxes
·     Box1 (Box Type 1)   Small Box
·     Box2 (Box Type 2)   Medium Box
·     Box3 (Box Type 3)   Large Box

 And, suppose the business owner, acquires the product (Product 1) from vendor in following types of bags

Bags
·    Bag1 (Bag Type 1)    Small Bag
·    Bag2 (Bag Type 2)    Medium Bag
·    Bag3 (Bag Type 3)    Large Bag



Process flow:
Navigate through your system entities section against Product Units, add new measurement units and then map those units under products with their conversion factors.
Doesn't matter you belongs from which industry type, GOIS-Pro has a solution for everyone.
Try the new feature available into the web system and see how it helps you as a third hand to assist you in your business. Number of businesses are complementing GOIS-Pro as a best inventory management app having extremely user friendly web and mobile interface to be used in a multi-user environment without any complicated software installations required.