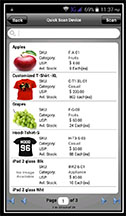 Number of industries and variety of businesses across the globe are using GOIS-PRO cloud inventory management system and are experiencing its platform independency as a third hand of their workers to assist them in their daily business activities.
Inventory tracking, warehouse stock management, stock transfer, adjustments, purchasing and sales management are the major business functions under every organization. Moreover it becomes more cumbersome task for the business owners to keep a track of every activity when it comes in multi-user environment and accomplishing everything in a timely fashion with limited set of resources.
GOIS-PRO cloud inventory management system has been designed in such a way which makes every task easier and also provides a flexibility to its users by making it handy using GOIS-PRO mobile application available for Android and iOS devices.

Quick Scan Functionality
An advanced feature has been integrated recently with GOIS-PRO mobile app called Quick Scan function, which allows a user to perform any business activity in just few clicks.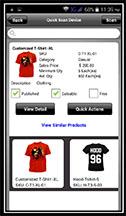 User don't need to bother or struggle with different navigations across multiple screens to accomplish their task. All you need to do is to scan a barcode or by typing-in a search value like Product Name or SKU# in a given text box, quick actions and complete product analysis can be done in one shot against a product.
Whether you need to raise a purchase order to buy a product from some vendor or need to make check-in/check-out into the warehouse, or wishing to punch a sales order against a customer to sell an item on an exhibition/field, all wishes can be fulfilled in few clicks using GOIS-PRO app on your mobile device.
Sometimes it happens that you are in a remote location or moving deep in your warehouse having no internet connectivity, GOIS-PRO mobile app allows a user to continue their work in offline mode to perform their inventory functions. Further online mode of working provides real time data syncing with all the web and mobile devices.

Features offered under Quick Scan/Search section:
Quick Actions:
Adjust Stock:

Allows you to add or deduct the quantities for missing, damaged, not recorded, returned, etc. items in your warehouse.

Transfer Stock:

Allows you to transfer the stock across multiple locations quickly.

Add Stock:

Allows you to Check-In the quantities in your warehouse.

Add Purchase Order:

Allows you to order an item from a vendor quickly.

Add Sales Order:

Allows you to sell your inventory or business product list from anywhere.
View Details:
Product:

Allows you to view the complete information for a selected product like Name, SKU#, Purchase Price, Sales Price, Measurement unit, On-Hand Quantity, etc.

Location:

Allows you to check those locations where the stock for a selected product is available

.

Sales Order:

Allows you to track all sales orders you have created against a selected product.

Purchase Order:

Allows you to track all purchases you have made from different vendors against a selected product.

Available Unit:

Allows you to check all the mapped measurement units with a given product.
To know more about this topic or to schedule a demo, please send us a message.

Goods Order Inventory System
MetaOption LLC
2500 Plaza 5, 25th Floor
Harborside Financial Center
Jersey City, NJ 07311
Phone: +1-888-745-3321
Email: support@goodsorderinventory.com
Visit – www.goodsorderinventory.com