Best Inventory Companies in NJ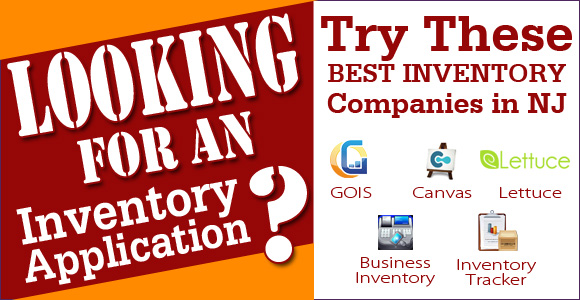 Nowadays, every business enterprise is benefiting from latest IT advancements. The latest technologies help them in simplifying complex business practices, which require a great deal of time and manual involvements. An inventory application is one such innovation, which has enabled users to track and record inventories on the go. The Mobile Accessibility feature is helpful for those corporate personnel who are always on the move for various business activities.
Tracking accurate and real time inventories on the go with a smartphone or tablet, helps the user to stay connected with the current business activities. With a complete inventory database in the hands, a user can easily view current stock status, in-transit orders, completed orders, billing amount, vendor's or supplier's contact details and much more.
If you are looking for an inventory App, Here, we bring you a list of advanced inventory applications developed by best inventory companies in NJ –
1. Canvas – This inventory application boasts great features and a wide set of data collection forms, which will assist you in collecting various data inventories and other information. This inventory application can be used for various business sectors. The inventory database from this App can be downloaded or exported as a PDF or Spreadsheet file. Canvas App is available to download for Android, iOS and BlackBerry Smartphones.
2. Lettuce – Lettuce is one of the most advanced inventory management application, which is designed to perform more than an ordinary inventory management system. This application allows fresh orders capturing, shipments tracking, payment processing, sales & order report analysis and customer relationship management directly from its dashboard.
Currently, Lettuce is accessible only on Apple iPad. However, it is also a complete web application, which can be accessed on desktop or laptop computers as well. Advanced customizable settings make it a user friendly inventory application.
3. Goods Order Inventory System Pro – Goods Order Inventory System Pro or GOIS Pro is an advanced inventory management application, which is designed and developed by the renowned MetaOption LLC. This inventory App packs many brilliant and useful features, which enables the individuals and enterprises to effectively manage their complex inventory database. The key features of this App include Multiplatform Support, Bar Code Scanning, Real time Tracking, Advanced Sorting & filtering, Cloud Support and more.
GOIS Pro can be accessed on various platforms like Macintosh, Windows & Linux, and devices like Apple iPhone, iPad, Android Smartphones & tablets. This is an advanced free online inventory management application.
4. Business Inventory – Business Inventory is a very basic and simple inventory application, which enables the user to track current stock levels, orders and sales reports, delivery status and more. Other beneficial features of this App include barcode and image capturing support, directly from smartphone's camera. You can export your inventory database to spreadsheet or emails, using this application. Currently, Business Inventory is available only on iOS platform.
5. Inventory Tracker – Inventory tracker is an Android inventory application which boasts basic but helpful features. Using this inventory App, the user can easily track current sales reports, balance sheets, payment status, shipment status, real time inventories and many more. Other features of this application include the spreadsheet export option, bar code scanning, database backup, multiple currency input support and many more.