Online Inventory Management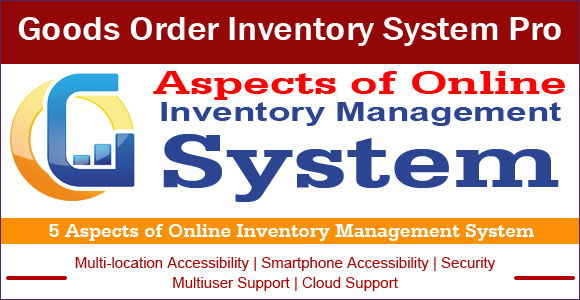 Nowadays, there is a very tough competition in almost every business sector, working at any corner of the globe. Every business enterprise is looking for new and latest tools, which help them in taking their business works and profits on to new heights. The latest technological advancements help them in simplifying the complex business operations, which require a great deal of time and manual inputs.
Why an Online Inventory Management System is important?
An Online Inventory Management System is a perfect example of technology advancements, which help enterprises a ton. With the support and assistance of an online inventory system, recording, editing, sharing and managing complex inventory database has become an easy task for business enterprises. An online inventory management system has become a necessity for business enterprises and individuals, related with any kind of manufacturing or trading business. For every business enterprise, it is essential to manage an inventory database and recordings in a précised format. An online inventory system helps them in facing the challenges met during managing an inventory database.
Here, we bring you 5 Aspects of Online Inventory Management System are –
Multi-location Accessibility

– An Online inventory management system can be accessed from any part of the globe with a compatible device. This is one of the most beneficial features of the online inventory software. This feature helps the user to view, add, edit or manage the inventory records, while s/he is not in the working premises and is on the move.

Smartphone Accessibility

– Nowadays, various online inventory systems are also available as an inventory application, which are developed to run on smartphone platforms. If you own an Apple iPhone or any Android Smartphone, you would find many inventory management applications on their respective App Store for free download.

Security – 

The online inventory management system software is password protected. Hence, the user doesn't need to worry that their confidential inventory database can reach into inappropriate hands. Being password protected, only an authorized person can view, add, edit or manage the inventory records.

Multiuser Support – 

Various online inventory management systems feature multiuser support. This feature is helpful for those enterprises, which have assigned more than one user to manage their inventory management system. These online inventory management systems allow more than one user to together access their dashboard from multi-locations.

Cloud Support – 

Many advanced inventory management software allows its user to record important inventory database on the Cloud. This enables the user to store confidential database securely on the Cloud. Moreover, the database stored on the Cloud can be accessed from any part of the planet on a compatible device.
Goods Order Inventory System Pro – Advanced Free Online Inventory Management System
Goods Order Inventory System Pro is advanced online inventory management system software, which packs many brilliant tools & features that help individuals and enterprises to effectively manage their inventory recordings.
To know more about GOIS Pro, Visit – http://www.goodsorderinventory.com/