Online inventory management systems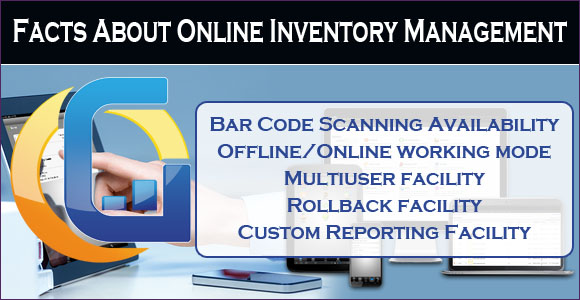 Nowadays, there are many types of online inventory management system software available in the marketplace. These online inventory systems pack many tools and features which helps business enterprises and individuals to manage complex inventory database with an ease. Various advanced online inventory management systems can also be accessed on Smartphones and tablets, which enable its user to access the inventory database on the go as well.
Online inventory systems offer many more flexibilities which make your inventory management works, a hassle free task. Moreover, being online, they can be accessed from any part of the planet on a compatible device.
Because of so many inventory systems around, people get confused and find it difficult to choose one of them. Here, we bring you Top 5 facts, you must know about online inventory management, before selecting one.
Bar Code Scanning Availability

– 

Online inventory management systems feature a bar code scanning support as well. This feature is useful for enterprises which deal in more than one product or item. The business enterprise can easily assign a unique bar code to all the products and items, lying in warehouses as stocks. Many online inventory systems also allow the user to perform bar code scanning directly from smartphone or tablet's camera. The user doesn't need to buy any additional device for bar code scanning works.

Offline/Online working mode

– 

Few online inventory systems work in offline mode as well. The user can easily access the inventory database in the areas, where network connections are not available. They can access the inventory database on the smartphone, tablet or laptop on the move. This feature is useful for the users, who are mostly on the move, and not available in the work premises. However, for accessing real time inventories, you need to connect your device to the network. The inventory system on your device updates its database as soon as it is connected to the net.

Multiuser facility

– 

Online inventory management system software allows multiuser login facility. This feature is helpful for enterprises, which have their set up in more than one location. The multi user login facility allows enterprises to add more than one user on the single dashboard of the inventory system. Using this facility, many users can together control inventory recordings and database of a particular enterprise.

Rollback facility

– 

Rollback facility is an added advantage in the online inventory management systems. This allows the user to restore the inventory database into a previously saved session. This feature is helpful at times, when your system gets corrupted. One can easily recover the previously recorded database without any complications.

Custom Reporting Facility

– 

The custom reporting facility is helpful in generating particular business reports at once. The enterprise can easily access any particular profit or loss report of any time, whenever and wherever s/he wants. The user can easily access customized reports, as per his/her requirements.
To know more about GOIS Pro, Visit – https://www.goodsorderinventory.com/