Tired of mediocre inventory management apps for iPhone, iPad and android devices that offer limited functionalities over mobile devices? Switch to GOIS-Pro and experience the difference today. GOIS-Pro is a comprehensible inventory management app that not only offers you full control over your inventory from your desktop computers/laptops, but also extends it functionalities to smartphones and tablets. The mobile version of GOIS-Pro is available for iPad, iPhone and Android devices, and is readily available in Google Play and Apple App store. Equipped with many powerful inventory management functions, GOIS-Pro allows its users to enjoy full control over their inventory directly from their mobile devices, even when they are on the move.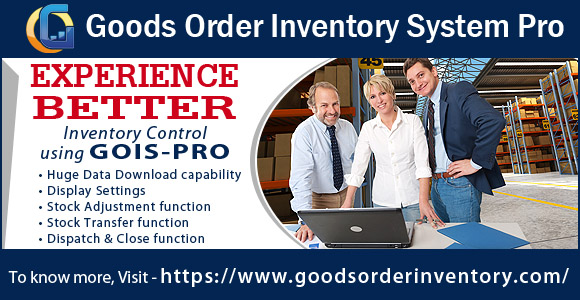 Here are a few tips you can use with GOIS-Pro to experience better inventory control using your smartphone or tablet:
Huge Data Download capability: Using this feature of GOIS-Pro, you can download critical, bulky inventory files directly on your iOS or android device, quickly. The feature offers five times faster download, compared to normal download, allowing you to download heavy files on your smartphone/tablet quickly.
Display Settings: Often viewing/analysing key inventory data on mobile devices is very difficult, because of their varying screen sizes. With GOIS-Pro, you can easily customize the view of your inventory data for your smartphone or tablet, as per your requirements or comfort. You can even apply filters and sorting methods for your files, making data viewing and analysis a lot easier on such devices.
Stock Adjustment function: Spotted an acute error in the stock data from your mobile device? Why wait to find a desktop computer/laptop, with GOIS-Pro you can fix such errors directly from the smartphone/tablet using the Stock Adjustment feature. You can also use this feature to make adjustments in the stock data due to damage or expiry of goods in the stock.
Stock Transfer function: Need to make urgent stock transfers, but don't have a desktop/laptop within reach? Use Stock Transfer function of GOIS-Pro on your smartphone/tablet to make such urgent transfers between two/more inventory locations. In a single instant, the function allows stock transfers between two inventory locations only. So, if you need to make transfers between multiple locations, you need to use this function that many times, selecting one source and destination pair each time.
Dispatch & Close function: Gone are the days when you needed to be logged-in with a computer to dispatch & close sales orders. Now, you can use the Dispatch & Close function of GOIS-Pro to process any sales order, execute goods dispatch and close the sales order, directly from your iPhone, iPad or android device. This will not only reduce your response time and help you serve your customers faster, but also help you score brownie points in customer satisfaction.