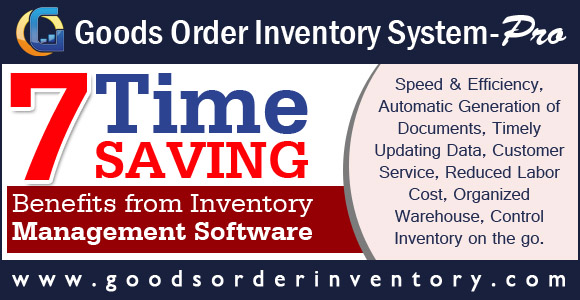 In present times, inventory management has become an important factor in the overall success of the business. Effective inventory management is all about knowing what is in hands exactly, where it should be used and how much finished products are available. All these things ensure that inventory is up to date without any chances of situations like 'out of stock' and 'overflow'. Once business owners have full control of their inventory, it becomes easy for them to cope with ever-growing customer needs. Inventory management usually involves consistent monitoring and tracking of units in and out of an existing inventory. The process ensures to control transfer in of units in order to prevent the inventory from becoming too high or low that eventually leads to 'out of flow' and 'overflow' situations.
In order to efficiently manage inventory, inventory management systems are deployed these days. Inventory management software is an application accountable to manage and track various activities of inventory effectively. Inventory management usually comes with several components. These components include:
 

Barcode scanner


 

Mobile Computer


 

Inventory Software


 

Barcode printer

Barcode labels
Every component has its own importance and work towards the effective use of inventory management system. Let's take these components with their uses one by one:
Barcode scanner

: Barcode scanners are devices installed in computerized inventory management software which is used to fetch the details of the product effectively. It is very effective while managing inventory since workers can scan a product's barcode to get its details and unique product codes. It saves time and makes the process highly fast track.


Mobile Computer

: A mobile computer is a computing device which can access the internet without being restricted to some location. It is deployed in modern inventory management software to enable business owners to manage and keep track of their inventories while they are to go.


Inventory Software

: Inventory software is the key application used to carry various activities such as tracking inventory levels, orders, sales and deliveries. It is used in businesses to manage inventory and make business efficient.


Barcode printer

: It is a computer peripheral which is used to print barcodes, labels and tags. It is used for effective inventory management since it can label products before shipments easily. It is one of the key components of a modern inventory management system.


Barcode label

: It is a material with adhesive backing and has printed code written on it. Generally, labels have unique product codes and names written on it for convenience.
These components collectively work together to help businesses become efficient and smarter in their functioning. Inventory management system can't work efficiently without absence of any component.
With time being an important factor for businesses, there are lots of challenges faced by companies due to small amount of time. Inventory management is a time consuming process due to inclusion of pool of activities. Traditional inventory management methods can't be used in today's business scenario due to their inefficiency and less speed. On the other hand, a computerized inventory management system can help to save that time and fast track key activities of managing inventory.
Here are 7 time saving benefits from inventory management software:
Speed and efficiency

: Inventory management software makes every fast track and efficient. Every activity from inputting information to taking orders or tracking them can be made easier with modern inventory management software. Manual inventory management methods like creating excel sheets can take days and months, but digital inventory management software carries out the similar process in a few hours.


 

Automatic generation of documents

: Once a computerized inventory management system to put into place, it helps managers and workers in automatic generation of documents like sales orders, invoices, account statements etc. They no longer have to sit at their PCs and create documents. It eventually leads to waste of time and energy while inventory management software can do that in seconds.


Timely updating data

: With manual methods, you can only update data when you provide inputs yourself. However, with computerized inventory management system, data can be updated instantly as soon as the product enters your warehouse. Moreover, the process is fast that you can pull out reports anytime to see the latest statistics.


Customer service

:

Since inventory management system is highly efficient, so it helps to cope with growing customer demand effectively. Business owners get complete control of their inventories due to which they can provide exceptional customer service. Workers can make sure there are no 'out of stock' situations which can affect the brand image of the company.


 

Labor cost

: Trained and competent professionals are required to manage inventory and handle other major tasks. However, it requires huge investment in labor. But using computerized inventory management system cuts down the cost of hiring labor to manage inventory. For instance, if the company decides to move its inventory from one location to another, to pick orders or put it away from storage, labor is required. In order to cut those expenses, inventory management system is highly beneficial.


Organization of warehouse

: Your warehouse needs to be managed effectively to ensure all stocks are available and updated from time to time. In case, you own multiple warehouses, management becomes even more intricate. In such cases, computerized inventory management control comes to salvage. Inventory management system can manage and track multiple warehouses by controlling warehouse settings.


Controlling inventory at move

: If you travel frequently so your inventory may suffer. But if you use inventory management system, then you can manage your inventory on the go as well. No matter, wherever you are, you can always manage and keep track of your inventory using inventory management applications.
These are 7 time saving benefits of inventory management software. Inventory management can be turned into an easy and quick process from the time consuming process if proper inventory management software is deployed. The inventory management system also has to be as per the requirements and suitability of a company. There are number of inventory management systems available in the market, but a company can't deploy any software since its features may not match with the requirement of the company. In such cases, there are numerous points to be considered while investing in any inventory management software:
 

It matches the requirements of the company. For instance, an IT company can't use an inventory management system designed for an apparel company.


 

It fits into the budget of the company. Inventory management systems are expensive, but they have maximum ROI if used effectively. It is crucial to ensure that it fits into the budget of the company well.

It has user-friendly interface. The features of inventory management system must be understandable. Otherwise, workers won't be able to use it effectively and it can be a waste of time & capital.
Workers are given in-depth training on using computer software. Since computerized inventory management system depends on technology so workers must be trained about every aspect of it. It ensures that inventory software is effectively used.
These are some of the pointers to be considered by companies before investing in any inventory management software. Inventory software is designed for the benefit of different companies so companies have to be little careful while buying it.