Free Inventory Software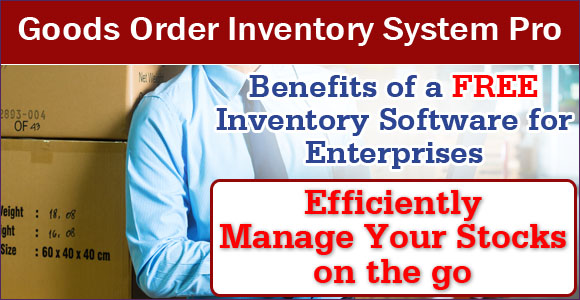 Efficiently Manage Your Stocks on the go
Nowadays, an inventory system has become a must have for all business enterprises, belonging to any sector. An inventory management software is a very powerful and efficient tool to track your stocks and business reports in a well précised format. Every business must maintain their inventory database in the best possible way, for its fruitful running. There are many free inventory software available around, which help individuals and enterprises in recording and maintaining complex inventory database without any hassle.
The various free online inventory software features many helpful and advanced tools, which assists its user to record and manage the inventory database with an ease. It is well known that an advanced inventory software is much better than an inventory database, which is recorded manually on papers. There is always a threat that inventory recordings on papers can be lost or misplaced. They may also reach in inappropriate hands. While, you can make a backup of the inventory database recorded through inventory software. Also, they are password protected.
There are many benefits of free inventory software. Some of them are –
Security – 

Inventory Software is password protected. Hence, you don't need to worry that any unauthorized person can access your confidential database. The user needs to enter the password, in order to view, add, edit or manage the inventory database.
Multiplatform Support – 

Inventory software can run on various operating system platforms. It doesn't matter which OS is running your computer system. Inventory software can run on various OS platforms, including Macintosh, Windows & Linux.
Mobile Accessibility – 

The biggest advantage with an advanced inventory software is that, it can be accessed on smartphones and tablets as an application. This feature helps the user to track or manage their inventory recordings on the go, when they are not in the working premises.
Advanced Sorting & Filtering – 

Another beneficial feature of inventory software is advanced sorting & filtering tool. The user can easily access detailed information about any particular product or item in stock, using this tool. S/he doesn't need to go through the long list of stocks, manually.
Bar Code Scanning – 

Few inventory software also allows bar code scanning. This enables the user to maintain individual identity of each and every product or item in the stock, by assigning a unique bar code to them. Further, the bar code scanning works can be directly done from smartphone or tablet's camera. The user doesn't need to invest on any additional scanning device.
Cloud Storage – 

There are many inventory systems available around, which offers free Cloud Storage to its user. The secured Cloud Storage can be used for storing important and confidential database. Also, the database stored on Cloud, can be accessed from any part of the world with a compatible device.
Goods Order Inventory System Pro is an advanced free inventory management software, which packs all these features. There are many more advanced features of GOIS Pro, which makes it one of the best online inventory software. To know more, Visit – http://www.goodsorderinventory.com/