Why a grocery store should use Computer Inventory Software?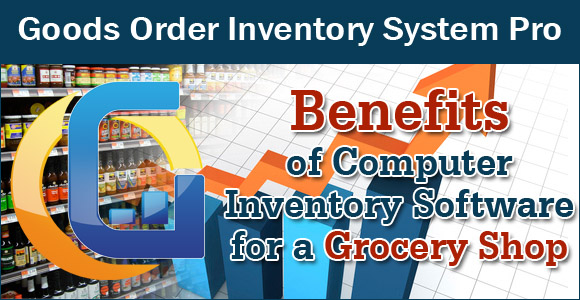 Running any type of business setup requires expertise management and control measures, which aim towards simplifying various complex operational works and earn profits as well. Nowadays, business enterprises are adopting various latest advanced technical support and services which help them in running a profitable business. A computer inventory software is one such example of technological & IT advancements.
Maintaining précised & updated inventory database is an essential task for any type of business set up. But if you own any retail shop like a grocery store, it becomes a compulsory task for you to keep an updated and well managed inventory database. Since a grocery store deals in more than products or items, recording and keeping these inventories manually on papers is an impossible task.
Following which, every grocery store must use a inventory software for recording and keeping their huge & complex inventory database. An inventory software is added with many brilliant tools and features, which makes inventory recording and management an easy task to do. With the provided assistance and useful tools, inventory management and recording has become an uncomplicated and easy job these days.
Benefits of Computer Inventory Software – An inventory software can be used for managing inventories for all types of business enterprises, working at any level and any part of the world. Almost every business sector needs an inventory software.
If you own a grocery shop, this is something meaningful for you. Here, we bring you a few important benefits of using a computer inventory software for a grocery shop.
Security – An inventory software is always password protected. Hence, your confidential database won't reach in inappropriate hands.
Smoothens business processes – Any Computer inventory software simplifies various complex business processes which require ample of manual concern and other resources.
Creating Business Reports – Any advanced computer inventory software features user friendly tools, which assists its user to create detailed business reports including sales, stock and profit reports.
Advanced Sorting & Filtering – The inventory software features advanced sorting and filtering tool, which enables the user to access any specific information about any particular product or item. The user doesn't need to search the particular inventory record in the long list manually.
Bar Code Scanning – The Bar Code Scanning feature allows the user to maintain unique identity of each and every product or item in stock. The various inventory software allows bar code scanning directly from smarphone's or tablet's cameras.
Mobile Accessibility – This is one of the biggest advantages of using any online inventory software. You can access your inventory software and its database on various devices including laptops, smartphones and tablets as well. This feature allows the user to manage inventory records on the go.
Goods Order Inventory System Pro is one such advanced computer inventory system, which can be accessed on various platforms and devices including Apple iPhone, iPad and Android Smartphones & tablets.
To know more about GOIS Pro, Visit – https://www.goodsorderinventory.com/