Inventory management software has become an indispensable tool for many successful business owners who recognize the importance of accurate inventory management. Likewise, accounting software is invaluable for even small businesses, providing critical data on business performance. Inventory management software is a must for a business of any size, and so is accounting software to improve efficiencies and organize businesses smartly.
Accounting software defines your company's current standing, while inventory management software is used to maintain inventory health. Inventory management is about knowing what you have in your warehouse and where your stock is located.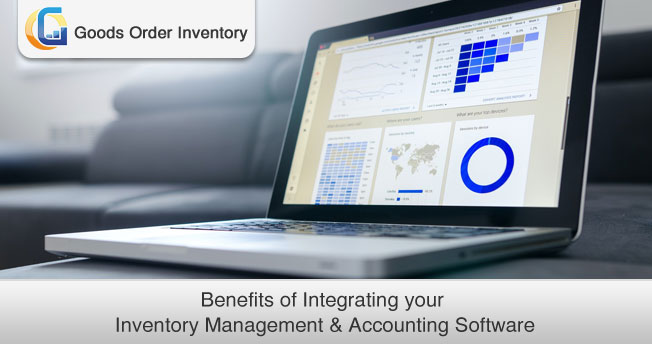 Many companies will already have accounting software in place and a system for their inventory management. However, these two systems may operate independently of each other despite having a lot of information worth sharing. In order for inventory management to be effective, it needs to communicate with multiple aspects of the business. Although inventory management software can track physical inventory stock, it needs to integrate with other business parts to yield the best possible optimization.
Here are the key benefits of integrating your inventory management and accounting software

Easy Reconciliation of Data
In case you're running an organization, you realize how significant information is. Indeed, you might have gone through more cash in securing that information. This is because that information can be utilized to benefit or destroy your organization. A new report found that organizations can save millions from simply having a decent security policy.
This is the reason generally "large" organizations are recruiting experts to come up with a decent security strategy plan. Simultaneously, go through their expert abilities to accompany stronger firewalls.
Accurate Financial Reports
Every business needs to reconcile its inventory data and accounting data to identify and resolve any possible discrepancies. The recorded asset value on your balance sheet needs to match the physical inventory value in your warehouse. Maintaining an error-free financial statement is not only important for tax purposes, but also for key stakeholders and investors to have an accurate view of the company's financial health.

Reconciling inventory transactions against asset values manually requires a significant effort from your accountant or bookkeeper. The more inventory stock your business orders and stores, the more time-consuming it is for them to compile the statement. Also, there is a higher risk of errors due to the large manual transfer of data.

Integrating your inventory software with your accounting system ensures that every sales order, purchase order, or business activity gets captured in your accounting system. This removes the risk of human error, inaccuracies from delayed information, and more, resulting in the better overall integrity of your company's financial reports.

Increase in Profit Margins
Each entrepreneur will reveal to you that it is very hard to manage work. Truth be told, now and again, it is very costly. Yet, getting rid of work is inescapable. There's no production without the work input.
Yet, is there an approach to limit work costs yet keep up with or even work on quality?
Sure! Through the accounting software inventory management.
In addition to the fact that it helps you get precise information lessens cost of production (labour). Whenever you have incorporated the system, you will simply require a few groups acquainted with the product chipping away at it. Consequently, expanding overall revenues.
Provide visibility to Supply Chain Partners

Aside from clients, you can't manage without supply chain partners. Indeed, they are individuals who give you the item/administration you are delivering to your clients. Subsequently, they should have a clear sight of your inventory levels.
In any case, it is very difficult to do it manually. Not exclusively is it tedious yet it addition cost a great deal. This is because that you should employ experts to analyse information and provide them with real-time data.
Consequently, the most effortless way is to have a system that integrates your organization to any remaining tasks. Accounting and inventory management software that gives continuous monetary data to your clients.

Inventory Management & Accounting Benefits

The business world is evolving quickly. Consistently, there's some beautiful interesting development that becomes known. Nonetheless, development is just pretty much as valuable as its capacity. If it does not diminish expenses or increment net revenues in any capacity, it isn't useful. With accounting software inventory management, you are guaranteed constant information that will affect your business. In addition to the fact that it helps you increment your overall revenues furnishes you with precise reports valuable for determining.
In order to maximize the benefits of your accounting and inventory management software integration, it needs to be real-time, easy-to-use, flexible and scalable.
Here at GOIS, we have the perfect solution for you. GOIS is an inventory and order management platform designed for your small and medium business needs.
Our software integrates with widely used accounting software like QuickBooks Online and QuickBooks Desktop. Here are some of the features of our integrations:
Centralize your accounting data with GOIS online inventory management platform automated sending of invoices, purchase information, payments and customer information to the accounting system.
Gain real-time visibility with the automatic sync of order and inventory data, providing your business with an accurate overview of the stock movements and financial performance.
Automate account receivables by allowing customers to pay on the GOIS B2B eCommerce portal with the payment being synced directly to your accounting software, saving your precious time and increasing accuracy.
To find out if GOIS is a good fit for your business, click here for a demo.