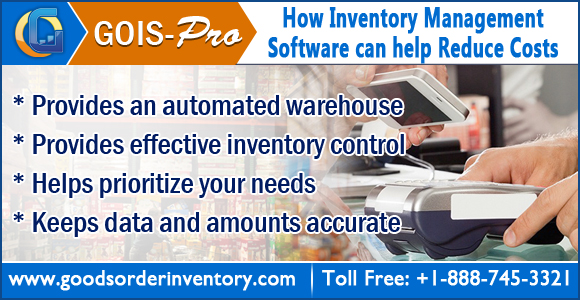 The ever-growing consumer demands have made businesses to look for expert ways to meet them. Since technology is evolving so is the awareness of consumers. Consumers these days are smart and don't want to compromise with low quality products. Due to highly competitive business environment, they have numerous options to move to other companies if one is not able to meet their needs. Hence, businesses have to turn smart, so that their customers don't move to other companies and they end up losing their customer base.
Inventory management
One of the best ways to keep customer satisfied is by management of inventory. Inventory, if managed properly can help companies reduce unwanted cost; avoid difficult situations of being out of stock, and keeping customers happy. But unwanted investment in inventory can also lead to putting company at risk of cash flow. Hence, it is crucial to deploy appropriate cost reduction techniques to reduce inventory, but without impacting profits and customer service.
Getting rid of cash outflow
Good and properly managed inventory usually helps to free up cash, which company can invest to meet future goals or execute future plans. Cash flow is defined as the amount of cash available with the company. Hence, cash flow can be measured by subtracting cash inflow from cash outflow. When determining inventory management strategy, it is crucial for companies to determine the balance between customer service and inventory investment.  Reducing inventory is possible, but if customer service and profits also reduces, it can impact profits adversely. Hence, here are some methods that can help reduce inventory without impacting customer service.
Enhancing communication in the supply chain

: Supply chain refers to the movement of goods and services to customers. Earlier, companies use to keep a separate stock to be used later in emergency. However, this safety stock can effectively reduce by improving the communication. Communication can be improved by adopting electronically commerce, in-house supplier personnel and making supplies to help in selling and promoting products.

Reducing supplier lead time

: Lead time can have significant impact on the amount of inventory carried forward. It has to be shorter in order to carry less backup stock. Companies can work with suppliers directly to reduce lead time. For this, companies can track and measure lead time or negotiate lead time with the suppliers.

Standardizing:

One of the helpful cost reducing techniques can be working with suppliers to reduce the number of products carried. The number of parts can be lowered by using substitutes for standard parts and consolidating a common part number.

Reducing obsolete inventory

: One of the reasons companies doesn't make profits is due to retaining obsolete inventory. Hence, eliminating things not required can help in reducing inventory cost. The following methods can be used:
Using it elsewhere in the company
 

Negotiating with suppliers to take it back
 

Promoting and selling them at discounted prices
Donating inventory to local charity
Enhancing supplier quality
These are some of the cost reduction techniques that can help in reducing cost associated with inventory considerably.