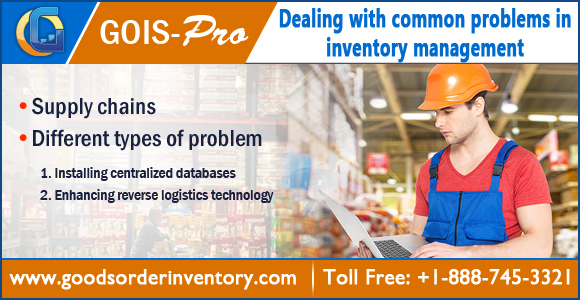 Technology has given the consumers and retailers the ability to find the products they want immediately. Inventory management is highly beneficial for SMEs these days since it helps them cope with ever-growing customer needs effectively. With the advancement of technology, customers have become smart and sensible in taking their buying decisions. Hence, consumers nowadays don't wish to settle for low quality products.
Further, since markets have become competitive, so consumers get various substitutes easily. For instance, if a company goes 'out of stock' or start delivering low quality products than consumers can switch to other substitutes available in the market easily. Therefore, inventory management is one of the most crucial factors leading to success of the business. But there can be numerous problems dealing with inventory management at times. Let's find out how?
Supply Chains
Now days, supply chains are becoming increasingly complex since there are multiple channels that needs to be integrated properly in order to maintain accurate assessment of inventories. Generally, consumers prefer making their purchases directly from Smartphone's. Hence, it is necessary for every section of the supply chain to be incorporated into a larger system efficiently. With proper assessment of where products are located, businesses tend to improve their order fulfillment process and reduce waste. However, there can be several mistakes that can create problems for logistics management strategies.
Different Types of Problems
These problems can be related to supply, information, forecasting and resource mistakes. These problems present unique type of challenges and reduces efficiency within the supply chain and must be dealt immediately. For instance, there can be problems with product quantities or products can be placed at the wrong locations. It reduces the efficiency of workers, waste their time and impact sales of products. Hence, it is crucial that workers take out some time to review merchandise quantities and their locations weekly or monthly.
In order to deal with the problems mentioned above, some of the steps can be:
Installing centralized databases: One of the major reasons why these errors arise is lack of communication within various departments. It is crucial for businesses to keep financial records separate from customer information, but it may create problems for workers to handle such a huge data. Centralized database system provides the ability for businesses to integrate multiple resource centers. These databases automates the storing process and make working efficient.
Enhancing Reverse Logistics Technology: Developing a return policy can enable merchants to increase their e-commerce transactions. It can be easy for customers, but can create challenges for firms if they don't possess an efficient inventory management system. A successful inventory management system will have a comprehensive and efficient reversed logistics technology. The system offers them the ability to clear outdated products and return defective products as soon as possible.
These methods can help businesses deal with common problems in inventory management. Firms can easily monitor the movement of their goods and monitor their supply chains to ensure their customers are always satisfied. Also, these methods provide firms the ability to determine their risks and find efficient ways to deal with them.