Challenges faced by the Healthcare Industry
Today's healthcare industry is not the same what it was a few decades ago. These days, hospitals have to deal with volatile customer demand, minimal inventory visibility, very diverse patient health profiles, complex payment options, and much more on a day to day basis. Meeting such challenges satisfactorily puts an enormous strain on the clinical staff and the logistic staff of the hospital. Hence, there is a need for a robust, automated inventory management system that can minimize the error-prone & time-consuming manual bookkeeping and management activities in the hospitals.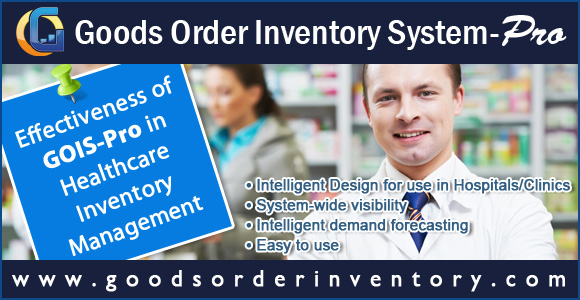 GOIS-Pro: The Perfect Solution
Goods Order Inventory System Professional (GOIS-Pro) is perhaps exactly what the doctor had prescribed for the Healthcare industry. The solution has been designed and configured exclusively to address the supply-chain needs of hospitals and clinics. It is an extremely user-friendly application that enables the healthcare entities to better manage their clinical resources, freeing the staff to focus exclusively on the patient needs.
With GOIS-Pro, hospitals can completely automate their inventory, and efficiently track all their medical equipment & supplies, perform supply logistics, manage all the materials and documents. The medical equipment, that can be tracked by GOIS-Pro, not only includes the medicines in the stock, but also vital equipment hardware like wheelchairs, infusion pumps,  telemetry transmitters, patient monitoring cables, and much more.
Also, with the GOIS-Pro smartphone apps for Android and iOS devices, hospital inventory managers can view, edit, and manage the stock levels directly from their handheld devices, enabling them to efficiently manage the inventory levels, even when they are on the move.
Key Highlights of GOIS-Pro
Intelligent Design for use in Hospitals/Clinics
•    Efficiently addresses all the critical needs of clinical supply-chain
•    Offers real-time information about product availability and alternate location
•    Relieves clinical staff from dealing with supply chain challenges so that they can focus better on patient care
System-wide visibility
•    Offers clear inventory visibility across the organization, irrespective of its size
•    Provides accurate information about stock levels
•    Eliminates chances of Stock-outs
Intelligent demand forecasting
•    Provides accurate demand history information to help the managers in making prudent demand-driven supply forecast
•    Automates replenishment requisitions from alternate locations
•    Complete visibility of who has what at every point of use
Easy to use
•    User-friendly interface
•    Can be accessed from Android and iOS mobile devices
•    Needs little or no prior training
Maximizes the cash flow:
•    Reduces the overall inventory level that means less used cash, which in turn translates into less cash being tied up
•    Reduces wastage by eliminating stockpiling, overbuying and expired products
•    Reduces costs for emergency reorder and shipping by improving inventory turns and accuracy
GOIS-Pro Advantages: GOIS Pro is instrumental in addressing all the inventory and supply-chain challenges faced by the hospitals and clinics. Key advantages of GOIS-Pro for the Healthcare industry include:
•    Immediate access to medical supplies from anywhere in the organization
•    System-wide visibility of inventory and automated replenishment
•    Reduces wastage by eliminating stockpiling and expired products
•    Freeing clinical staff from inventory management, allowing them to focus on patient care
•    Speeds up time-consuming manual processes, and makes them error-free
•    Improves the cash-to-cash cycle