Benefits of an inventory software for SMEs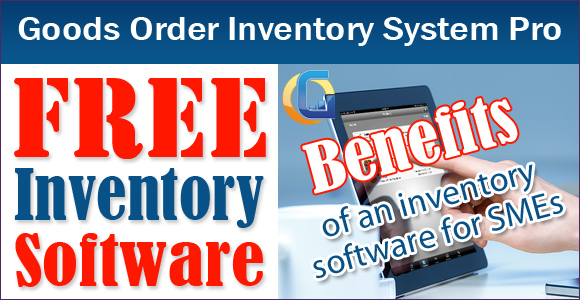 What is the need of inventory software for SMEs?
An inventory management software has become an essential tool, used to manage complex inventory recordings & database for small and medium scale enterprises working at any part of the globe. Every manufacturing, trading or retail business setup must maintain a précised and updated inventory database for its fruitful running. An updated inventory database is the best medium to access the current status of various business operations in an enterprise. It also consists sales and stock reports, which helps in generating profit or loss reports for an enterprise.
However, recording and managing inventory records manually on papers are one of the toughest and a kind of impossible tasks to do. It requires lots of time and manual efforts to enter inventory records for a business enterprise. An enterprise faces lots of challenges while maintaining an updated inventory database. To eradicate these challenges, there are several free inventory management software available in the marketplace. These advanced computer software helps enterprises to efficiently manage their inventory recordings.
A manual inventory database is always prone to get lost or reach with inappropriate hands. No business enterprise will ever want to lose its confidential database and reports. For which, the database of an inventory software is stored on a centralized and secured server, which can be accessed from anywhere with a compatible device. The user always needs to enter a correct password to view, add, edit or manage inventory records.
How an inventory software can help SMEs?
An advanced inventory software packs a huge number of user friendly & beneficial tools, which makes inventory management an easy task to do. An online inventory software can be accessed on various hardware and software platforms, from any part of the planet. Other features of one such free inventory software include stock tracking, in-transit orders, generating profit & loss reports, bar code scanning, multiple product management, email orders, centralized database cloud storage support and more.
An inventory management software makes inventory recording and management a hassle free task for individuals and SMEs. Being an advanced system, it helps enterprises reduce the time spent on recording and managing complex inventory records.
Goods Order Inventory System Pro – Advanced Free Inventory Software
Goods Order Inventory System Pro or GOIS Pro is one such free inventory management software, which is being used by many leading business enterprises all over the world. It is also available as a free inventory application, for various Smartphone and tablet platforms.
The key features of GOIS Pro are-
Smartphone & Tablet Accessibility

Multiuser Support

Real Time Tracking

Multi-location Accessibility

Advanced Sorting & Filtering

Bar Code Scanning

Secured Cloud Storage
 To know more about GOIS Pro, Visit – https://www.goodsorderinventory.com/