In this segment, we will see how GOIS Pro (Goods Order Inventory System Professional) helps in inventory management of furniture stores.
GOIS Pro is an innovative and affordable inventory management solution. Its functionalities are kept on enhancing over a period of time. One of its recent enhancements is the introduction of Quick Scan feature on its mobile app, which lets businesses to manage stocks and purchase orders easily as well as quickly.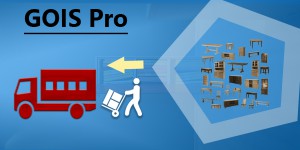 GOIS Pro comes with many quality and easy-to-use features, which help furniture stores in inventory management. Some of these features are purchase orders management, sales orders management, offline and online mobile accessibility, and vendor management. Let us see in details, how GOIS Pro is helpful.
Proper purchase orders, vendors and reports management: Inventory management is a major part of furniture stores' business processes. Furniture stores buy products from vendors on a daily basis, and in the process, they have to manage purchase orders, vendors detail, reports etc. With the assistance of GOIS Pro handy features, they can manage these activities like purchase orders management, vendor management, exporting & importing of reports, in much comfortable manner.
Inventory management via mobile app, which is accessible online as well offline: Let's consider the scenario, where furniture stores workers mostly work in warehouses, and they have no systems and uninterruptible internet. How will they make changes in inventory? Here, the solution is – GOIS Pro mobile app. It allows workers to manage their inventory on smartphones and tablets, instead of desktops and laptops. It works offline as well.
GOIS Pro app is accessible on iPhone, iPad and Android phones & tablets. It is downloadable from iTunes and Google Play Store.
Add, delete and remove inventory by scanning barcodes: One of the easiest and quickest way of managing inventory is using barcode scanning device. GOIS Pro app provides barcode scanning feature, which means users don't need to spend extra money on buying barcode scanning devices. That's why, this feature is particularly helpful in furniture stores inventory management, as they are required to manage inventory on a daily basis.
Other miscellaneous ways in which GOIS Pro is helpful:
It lets multiple users to make changes in the inventory. It provides real time data synchronization feature, which syncs inventory data between all users' devices.
It lets users to track the complete history of inventory as well as the current status.
It provides quick sorting and filtering feature, which lets users to search for a particular inventory record quickly.
To Wrap-up:
GOIS Pro is a cloud-based robust tool, and its quality-driven features fulfill furniture stores requirement in inventory management comprehensively.
To know more about it, please talk to our experts!
Contact, Goods Order Inventory System Pro

MetaOption LLC
574 Newark Avenue, Suite 210
Jersey City, NJ 07306
Phone: +1 (201) 377-3150
Email: support@goodsorderinventory.com
Visit – www.goodsorderinventory.com