Need of a Hospital Inventory Management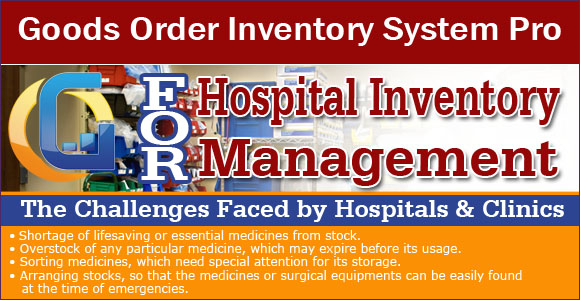 Nowadays, hospitals and clinics face a great deal of challenges in their day to day operational works. A hospital management has to look after various aspects for its smooth running, including patient treatment process, infrastructure and resource utilization, managing complex billing procedures, managing the time schedule of doctors, employees and staffs and the most important, looking after the stocks of medicines and surgical equipments.
Managing a précised and updated inventory database for Medicines and surgical equipments is the most essential task for any hospital administration. It is well known that medicines and other surgical equipments are the most utilized products/items in any hospital or clinic. Every hospital must maintain a good stock of lifesaving medicines, injections and disposable items like syringes, masks, gloves and other surgical items, which can be used only once during a surgery.
The Challenges faced by Hospitals & Clinics –
Shortage of lifesaving or essential medicines from stock.

Overstock of any particular medicine, which may expire before its usage.

Sorting medicines, which need special attention for its storage.

Arranging stocks, so that the medicines or surgical equipments can be easily found at the time of emergencies.
It is well understood that managing and maintaining an inventory database for any hospital or clinic is not an easy task to do. Recording or tracking inventories manually on papers is practically impossible. Hence, any advanced inventory management software is the perfect solution for such challenges faced by hospital administration.
There are various types of inventory management software available online and around the marketplace, which can be used in diverse business sectors. These inventory management solutions packs many brilliant tools and feature, which assist its user to view, add, edit or manage complex inventories without any hassle.
Any advanced inventory software is compatible with various types of hardware platforms and devices. This offers the user a flexibility to access the inventory database from multi-locations.
Some key features of Inventory Management Solutions-
Multi-location Accessibility

Smartphone & Tablet Accessibility

Advanced Sorting & Filtering

Real time Tracking

Bar Code Scanning

Multiuser Support

Security

Cloud Support

Multiplatform accessibility

Manage Sales & Purchase Orders

Sales & Profit reports

Track in-transit orders
Benefits of Hospital Inventory Management Solution –
Well managed inventory database

No Stock-out situation for life saving & other essential medicines

No wastage of expired medicines, hence saves financial resources

No Overstock Situation of any particular product/item

No chances of human error

Easy Access to Stock Reports

Hassle free billing process

Tracking fresh order status

24 X 7 Monitoring from any location
Goods Order Inventory System Pro is an advanced inventory application, which can be used for managing complex inventory database for hospitals and clinics. This hospital inventory management system is being used by many leading hospitals and clinics around the globe.                                     
To know more about GOIS Pro, Visit – https://www.goodsorderinventory.com/