Book Inventory Management Application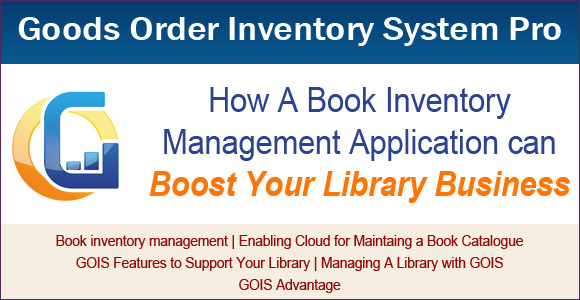 Book inventory management using a mobile application lends towards a streamlined process which enables easy maintenance of books in the library. Library cataloguing have grown in immeasurable dimensions since the adoption of computers to maintain records. However, adopting an inventory management mobile application such as Goods Order Inventory System (GOIS) keeps you connected with the library catalogue even when you are not in your seat and that at a very small price.
Enabling Cloud for Maintaing a Book Catalogue
Cloud technology enables you to store heavy data on a third party server so that you can remotely access the data using applications on the web or your mobile device. GOIS is a SaaS application that is available on  the smartphone, the tablet and the web. It makes inventory management fluid as users can browse the catalogue, make entries and make fresh entries from any compatible device. GOIS can be downloaded free of cost from Apple's iTunes or Google Play Store and thereafter subscriptions can be purchased as per the business capacity.
GOIS Features to Support Your Library
Runs as a SaaS application which reduces the costs of maintaining a server on business premise
The mobile application uses the mobile device camera as a barcode scanner 
The data collected from the different sources will be stored in a central location for easy access and with real-time updates
The changes made can be tracked user-wise with details such time, date and location
Books can be stored in categories and the extensive search option helps easy retrieval of book titles, details of who borrowed, track borrowing history, purchase history and assign order priority
Manage multiple locations, vendors and stores
Multiple users with different levels of administration privileges
Managing A Library with GOIS
Three aspects of library management are covered by GOIS– 
Acquisition – you can store supplier details, email fresh book orders, register fresh acquisition, assign a barcode and maintain a stock register
Catalog – extensive search and filter to track titles and their current status and access to up-to-date reports 
Stock – view book issue status, return date, renewal and consolidated report of all books' status
Irrespective whether you run a small library or a large one, GOIS can be adapted to the needs of the business. The application is scalable, hence you can extend your system capacity as your business grows, this helps in cutting technological investments to a great extent. Reports of the library catalogue can be easily downloaded onto the system for perusal. 
GOIS Advantage
The greatest advantage GOIS offers is mobility, you are no longer required to restrict yourself to the counter to check-in and check out books. You can move around the library, discussing and making suggestions on good reads, concentrate more on promoting your library through marketing strategies, organize events, etc. 
The app has an intuitive set-up and interface which makes it easy to use. It is available on Google Play Store and Apple iTunes, which makes it easily available for mobile device users.