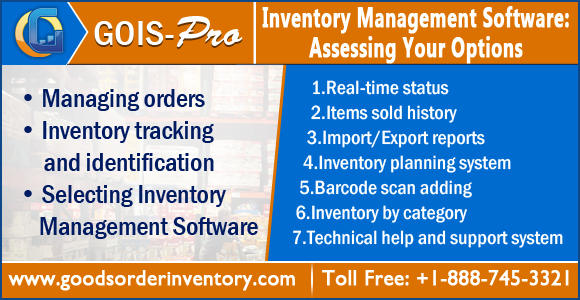 In businesses, stock or inventory holds a very important place. Hence, its management is crucial in order to ensure the inventory is under control of the business owner. A business's inventory is one of its major assets and is a large investment that is tied up until the item is sold or used in producing an item that is sold. Here are some of the reasons as why inventory is crucial:
Time: Time lags present in the supply chain requires you to maintain certain amounts of inventory to use in lead time.
Seasonal requirement: Since consumer demand varies with time, so inventories can result in stock accumulation. For instance, goods consumed in holidays can lead to accumulation of large stocks.
To meet uncertainties: Inventories are maintained to address uncertainties in demand, supply and goods movement.
Economies of scale: Buying a unit at a time is not possible since it adds extra load on the company. Hence, buying items in bulk and storing them for future brings economies of scale and eventually inventory.
Value appreciates: In most cases, the value of item appreciates if it is stored for some time. For instance, beer in brewing industry.
These are some of the reasons on why inventory is one of the most crucial things for a business. A business can't progress if it doesn't possess an inventory or maintains it effectively. Managing inventory is one of the crucial tasks for a business.
Inventory Management
In today's business scenario, companies usually face a dilemma due to increasing demand from customers for customized products and services. They require their orders to be filled and don't want to pay high premium for high customization and availability. Therefore, organizations look for ways to manage their inventories.
Inventory management aims at ensuring faster inventory turnover. Controlling of the ordering process, storage and use of components that a company uses in production to enhance the efficiency of workers. Inventory management typically involves having comprehensive control of inventory and enhancing other areas such as lead time, carrying cost of inventory, asset management; inventory forecasting, inventory visibility and quality management. Effective inventory management balances all these areas leading to optimal inventory levels and avoiding situations such as 'out of stock' and 'cash flow' situations. It is a continuous process with businesses being more competitive these days.
Inventory management involves creating a purchasing plan ensures that stocks are available when they are required and keep track of inventory. Generally, two common inventory management strategies are just-in-time planning and materials requirement planning. Just-in-time planning is where companies plan to receive items as they are needed. On the hand, materials requirement planning is where deliveries are set as per sales forecasts.
By managing inventories, companies can provide exceptional customer service. Hence, inventory management is an essential aspect of any organization.
Measuring inventory software influence
In order to carry out inventory management effectively, organizations have started deploying inventory management software. It is a computer based system for tracking inventory levels, putting orders, invoicing, sales and deliveries. The tool is used for organizing inventory data which was stored before in the form of hard copies and spreadsheets. Some of the features of inventory management software are:
Inventory management software aims at:
Maintaining a balance between too much and less inventory
Tracking inventory as it is transported to different vendors
Picking, packing and shipping of items
Organizations usually use inventory management system to cut their carrying costs, track products and parts as they are transported from vendor to another. Inventory management software helps to measure the efficiency of business working.