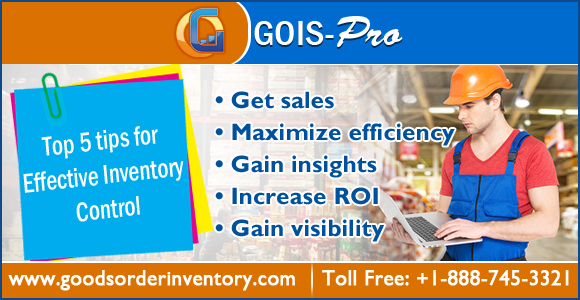 Is your business degrading? Are your customers moving away due to your inefficient and inappropriate stocks? With properly managing your inventory, it can help you boost sales, and increase customer satisfaction. It can easily keep your customers getting back to buy more and more products and avoid 'out of stock' and 'cash outflow' situations.  Experts consider inventory management as one of the most crucial techniques to keep business in the limelight.
In order to manage inventory, nowadays inventory control software is deployed. Though companies may consider buying inventory control software as an unwanted cost to the company, but this software provides maximum return on investment once used effectively.
Inventory control software
Inventory control software is computerized software used to manage and track stocks and carrying out other key functions. Along with it, accurate inventory underpins the rest of your business and ensures companies meet the promises done with consumers, get the accounting right for all crucial audits. On the other hand, inaccurate inventory may lead to inefficiency across the business. Hence, inventory control software is one of the secret ingredients for inventory accuracy.
Here are few of the advantages of inventory control software at a glance:
Never miss sales due to 'out of stock' situations

: Now you don't have to miss your sales and lose your customers due to no stock. You can always keep your inventory updated and even categorize 'popular' and 'unpopular' items effectively. Inventory control software lets you set "minimum stock levels" for every item and display all items which are below the set level.

Save money by getting rid of overstocked inventory

: Overstocked inventory is common for a company doesn't have any idea about products which are unpopular and not being taken by customers frequently. Hence, inventory control software displays all such products letting your company to save money by getting rid of overstocked inventory. Now you can keep your inventory organized and have a clear idea what is being selling and what's not.

Improving accounting

: One of the most important functions of inventory control software is accounting. Inventory control software takes care of all your accounting. For instance, if a product enters your warehouse, it gets updated on the sheet immediately. Similarly, when anything moves out, it gets deducted from the sheet.

Customer service

: Most of the businesses are customer centric and hence their sole aim is to provide exceptional customer service. With efficient inventories, customers can always leave satisfied and getting their desired products.

Efficient re-ordering

: Inventory control software makes you re-ordering process faster. It is impossible in recent times to wander in your warehouse and look for items which have to be ordered. Hence, inventory software does that methodically through automated reports and helps you take informed decisions.
These are the top 5 advantages of inventory control software. Hence, it is undoubtedly considered as a secret ingredient for inventory accuracy. Inventory management is no longer a trend rather necessity for small, medium and even large enterprises. Hence, getting it is crucial for success of any business.