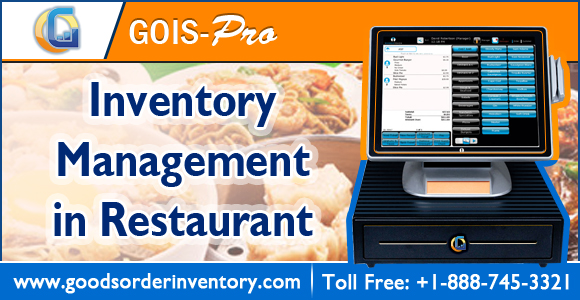 Managing inventory is a key element of operating a successful restaurant business. From managing weekly food inventory to the workforce, and refurbishment of leisure items, all need a proper plan and mechanism. Nowadays, with the inception of inventory software for mobile, it is possible to manage everything in your restaurant at the simple touch of your hand.
But, it's easier said than done. Managing a restaurant offers several challenges. Experienced managers have long known that it is important to have as many plans and procedures in place as imaginable, as something is always bound to pop up that demand your attention. As restaurant margins are generally pretty slim, cost control is always a chief concern. After labour, food expenses are typically the largest cost for restaurants, therefore most restaurants have fairly tight inventory-control strategies.
Following are some tips that can prove helpful to you in managing your restaurant:
Use of software based inventory management – Set up a software-based inventory regulator system. Even though you are just running a minor restaurant, you will have at least a small amount of dozen of items in inventory, and larger setup could easily have several hundred. The big convenience of a software-based inventory structure is the automatic calculation option, and with software you can pre-plan orders to be triggered at particular inventory levels. Other than this, bar code inventory system for iPad is also available. These apps are highly convenient if a little pricey.
Use quickly – demand supply system –Keep track of your transactions and food usage all through the month. If your supplier bids two deliveries or more every week, take benefit of this system. Order only what you expect, you will sell in the ensuing three or four days, to keep the meats and food fresh and rotated out of the shop as quickly as possible. A foodstuff that sits around will be spoiled, so only ordering just what you need will decrease the possibility of spoilage.
Use synchronized Date Labelling System – Label everything on your shelf and in your freezer. Make a habit of asserting that every item in your pantry has a label indicating the day it was brought into the shop and the expiration date. Mark the day of the week in bold marker and have a structure that everyone uses every time they use foodstuffs. Date labelling is possible for a home inventory app for iPad.
Use Commercial Refrigeration Units – Buy a commercial refrigeration unit to stock your meats, produce and remains. If you are on a budget, one may think used home freezers will do the job, however, going with the better equipment will save you some money in the long run.
In a nutshell, Importance of good inventory management can't be stressed enough. This can be the difference between running a deficit and really making a profit on your trade. Giving close attention to inventory information will allow you to earn substantial savings each month.
Did you deploy an effective inventory management system into your restaurant? What were your observations? Tell us!!