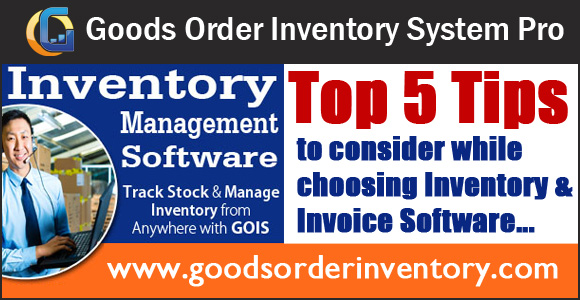 If you are establishing a small business enterprise or even a small retail shop, you must be looking out for a free inventory and invoice software. There are various types of inventory management system and invoice software available online and at the marketplace. People choose the right one for them as per their requirements and needs. Some of these software packages are paid while some of them are absolutely free.
The inventory and invoice software boasts various beneficial features and tools, which assists a user to generate sales bills and keep stock inventory records efficiently. If you are planning to install a software for the same, here we bring you the top 7 tips to consider while choosing an inventory & invoice software-
# 1
Cost
This is the first and the most important aspect which must be considered before selecting an invoice and inventory software. You must know your requirements and needs and then choose the software accordingly. If your business enterprise requires minimal usage, then you should go with a free software. And if you need an advanced software, which can handle your complex requirements, you should go with a paid version, which packs additional features and tools.
# 2
Taxation Entries
There are various software which allows the user to add taxation details in the generated bills. If your business requires to add tax details like VAT, GST, Sales Tax or any other, you must choose a software which allows the user to add tax details while generating bills.
# 3
Report Generation & Tracking
Some of the advanced inventory management software allows its users to generate current stock & sales reports directly from the software's dashboard. As the inventory database is stored on a centralized, secure Cloud, the user can view the current stock status, whenever s/he wants to, from any part of the world with a compatible device.
# 4
Multi-user Compatibility
If your business enterprise has employed more than one person to manage and monitor the various business operations, you would need an inventory and invoice software which could support multi-user compatibility. It would allow you to add more than one user on the dashboard of the software. This feature is helpful for big enterprises with multiple location setup.
# 5
Database Management
If your manufacturing or trading business deals with more than one product of item, you must maintain an updated database of all the records and information related to each and every product. These records include date of purchase, cost of purchase, seller's, or vendor's name, their contact details and more. An invoice and inventory software can help you with these needs as well.
Goods Order Inventory System Pro is an advanced inventory and invoice software, which can be used for all types of business enterprises. This software features in-houses various beneficial features and useful tools. To know more, Visit – https://www.goodsorderinventory.com/