Effectively Manage your Enterprise's Inventory Database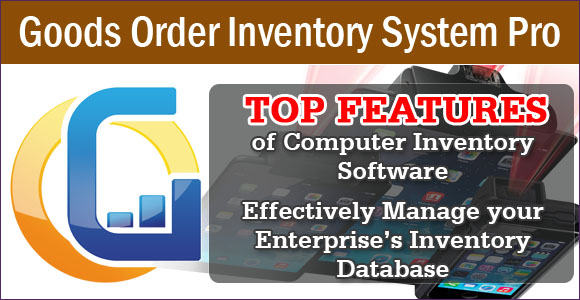 Nowadays, there are many computer inventory software selling around the marketplace, which can be used for recording and managing inventory records for individuals or enterprises. Every business enterprise must use an advanced inventory system software, which makes their inventory management works an easy task to do. Inventory recording is an essential practice for business houses and enterprises. Every business firm must maintain an updated inventory database, for running their business in a profitable way.
An advanced computer inventory software packs many useful tools and features, which caters all your inventory recording needs. The inventory software systems can be used for handing complex inventory database for any business sector.
The few top features of Computer Inventory Software are –
# 1 Mobile Accessibility
Few inventory management software can be also accessed as an application on various Smartphones and tablet devices. This enables the user to access the inventory database on the go. The user can easily view, add, edit, share or manage the inventory recordings, when s/he is not in the working premises. The user can also access real time inventory recordings, if his/her smartphone or tablet is connected to the net.
# 2 Bar Code Scanning
The computer inventory software also allows bar code scanning. This feature is beneficial for warehouses which have various types of products or items in their stock. Any manufacturing or trading business firm can maintain the unique identity of their products in-stock, by assigning a bar code to them. And for scanning them, they don't need to invest on any addition device. The bar code scanning works can be done directly from smartphone or tablet's camera.
# 3 Cloud Storage
There are many advanced inventory software, which uses a centralized secured cloud to store the important inventory database. The biggest advantage is that, the database stored on the Cloud can be accessed from any part of the world with a compatible device. Being secured, only authorized users can access the database recorded on the Cloud.
# 4 Multiuser Support
The computer inventory software allows more than one user to control the inventories from multi-locations. If your business enterprise is based in more than one city, you can easily authorize more than one manager or control staff to access the inventory system of your enterprise. The authorized user can easily access stock & in-transit reports of any other location without any complications.
# 5 Database Management
Many inventory systems also work as a complete database management system. This allows the enterprises and individuals effectively manage their complex database.  The enterprises can easily manage business reports, sales, purchase and stock reports, contacts and many more confidential databases without any hassle.
Goods Order Inventory System Pro is an advanced yet user friendly inventory management system, which packs many brilliant features that, assists its user in managing the inventories in a much efficient way. It is one of the best free online inventory management system.
To know more about GOIS Pro, Visit – https://www.goodsorderinventory.com/