Advanced Inventory Management Application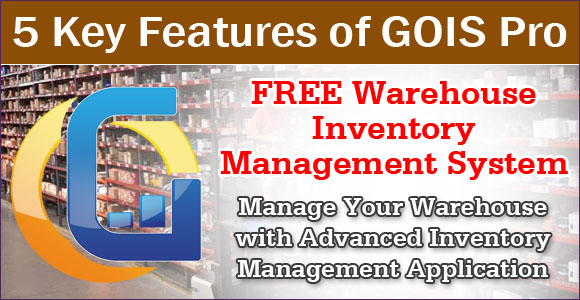 Goods Order Inventory System Pro is an advanced inventory management software, which has been developed to cater all the requirements and demands of individuals or enterprises, from their inventory system. GOIS Pro packs a user friendly interface, which is capable to simplify and minimize all the complex challenges, a user faces while recording its inventory database. This inventory software boasts many brilliant features, which makes it one of the best free online inventory system.
If you own a warehouse for your manufacturing or trading firm, you must use an inventory software, which is capable enough to handle all your complex inventory databases. Managing a warehouse is not an easy task to do. The person responsible for managing the warehouse needs to implement a great deal of attention, while monitoring the stocks in the warehouse. S/he must update the inventory database in regular interval of time.
GOIS Pro packs many useful features, which are beneficial for the users managing a warehouse. It is one of the most popular warehouse inventory management systems.
The 5 key features of Goods Order Inventory System are –
# 1 Mobile Accessibility
The most useful and brilliant feature of GOIS Pro is Mobile Accessibility. Goods Order Inventory System Pro can be accessed as a mobile application on major smartphone platforms including iOS, Android and Windows Phone OS. If you own an Apple iPhone or any Android Smartphone, you can download the free GOIS Pro App, available on their respective App stores. GOIS Pro can also be accessed on Apple iPad and Android tablets. This feature enables the user to access the inventory database on the go.
# 2 Bar Code Scanning
GOIS Pro supports bar code scanning directly from Smartphone or tablet's camera. The user can maintain the individual identity of each and every product or item in stock, by assigning a unique bar code to them. For scanning works, the user doesn't need to purchase any additional device. This feature is beneficial for enterprises, which deals in more than one product or items.
# 3 Multiuser Support
This inventory application allows up to 25 people together on its single dashboard. This means that up to 25 people can together view, add, edit or manage the inventories from any part of the planet with a compatible device. This feature is useful for big warehouses, which employ more than one manager or staff to control the various ongoing processes in the warehouse. This feature keeps each and every control staff updated with the current stock details of the warehouse.
# 4 Real Time Tracking
GOIS Pro supports Real Time Tracking feature, which enables the user to track real time inventory recordings. This feature is beneficial for those users, who are always on the move for business works. They can easily track the real time inventories on their Smartphones or tablets on the go, when they are not in the working premises.
# 5 Cloud Storage
This inventory system offers 500 MBs of secured Cloud Storage, which can be utilized to record important and confidential inventory database. No business enterprise will afford its crucial inventory database being lost into the wrong hands. They can use the secured Cloud storage for keeping the important records, which can be later accessed from any part of the world with a compatible device.
Goods Order Inventory System Pro is added with many more advanced features. To know more, Visit – http://www.goodsorderinventory.com/