Free Barcode Inventory Software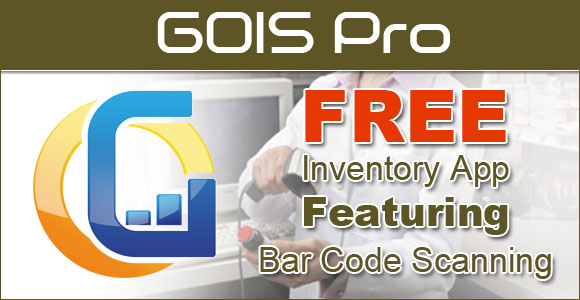 Inventory App featuring Bar Code Scanning
Managing warehouses or large stocks is not an easy task to do. The people responsible for managing the stocks for any warehouse needs to be attentive while preparing the stock reports. Also, they must keep detailed information about each and every product in the stock. Hence, it becomes a difficult task to manage the stock's database manually, without the support of any modern inventory system.
MetaOption LLC brings you Goods Order Inventory System Pro, a free inventory application, which helps enterprises and warehouses to easily manage and maintain their products in stock. This inventory system software is added with many latest features and advanced tools, which makes inventory recording and managing an easy task to do. GOIS Pro can be accessed on various platforms, including Macintosh, Linux, Windows and devices like Apple iPhone, iPad, Android Smartphones & tablets.
GOIS Pro is advanced barcode inventory software, which supports bar code scanning directly from Smartphone's or tablet's camera. This feature is helpful for those enterprises which deal with more than one product/item. The person responsible for managing the warehouse can easily maintain the detailed record of each and every product in stock by assigning it a unique bar code. And whenever s/he needs to access the records, s/he just needs to scan the bar code using Smartphone's or the tablet's camera.
Goods Order Inventory System Pro boasts many other beneficial features, which assists user in recording and managing complex inventory database. The key features of GOIS Pro are-
Real Time Tracking-
This inventory application enables the user to access real time inventories from any part of the planet on a compatible device.
Mobile Accessibility-
GOIS Pro can be accessed on your smartphones and tablets as well. You can download the Free GOIS Pro App for your Apple iPhone, iPad and Android Smartphone & tablets as well.
Multiuser Support-
This application supports up to 25 people together on its single dashboard. This suggests that 25 people together control this inventory system from multi-locations.
Cloud Support-
This inventory application allows its user to record inventory database on a secured cloud. GOIS Pro offers up to 500MBs of Cloud Storage.
Advanced Sorting & Filtering-
GOIS Pro boasts an advanced sorting & filtering tool, which allows the user to access detailed information about any particular product or item at once. S/he doesn't need to search them one by one manually.
Database Management-
This inventory system also plays a major role of database management system.
Goods Order Inventory System Pro is an advanced yet user friendly inventory application, which has been designed and developed to meet all the challenges that an enterprise or individual faces while managing complex inventory databases. It is built on a user friendly interface, so that the user doesn't feel any complications while recording or managing inventories.