GOIS Pro Now Integrated With QuickBooks
Integration with QuickBooks Online forms a comprehensive business solution for you that eliminates the hassle of manual data entry. Automatic syncing of recent stock and order information from GOIS Pro to QuickBooks Online provides your business a perpetual inventory and ordering control system.
With the help of GOIS Pro, you may also keep your accounting transactions updated into the QuickBooks Online system and take the advantage of advanced reporting capabilities.
By offering a cloud-to-cloud solution, centralizing your orders and inventory across multi-location business environment streamlines your warehouse operations and boost up your overall productivity.

Advantages you will get from Integration
An easy way to build a quick edge-to-edge connection between two cloud systems allows you to synchronize all the information from GOIS Pro to QuickBooks Online account instantly. Using GOIS Pro-QB adapter, you can manage all your business accounting, inventory and orders at a single place.
Products & Categories
Import all of your products from all of your sales channels into one unified catalogue to manage it more effectively. Organise your products with images, categories, and prices. Even keep a track of best-selling items on the go.
Purchase Orders & Vendor Payments
Raise purchase orders with all of your distributors in one place at GOIS Pro and close it after you receive inventory from suppliers. You may even make partial fulfilments of your purchase orders. Once it is closed, sync with QuickBooks gives you a second degree flexibility to track your stock supplies, expenses and make payments from anywhere. Users may enter bills from vendors, and pay them only on due date. You may also schedule recurring payments to save time.
Inventory Valuation & Tracking
With GOIS Pro system, you can get your inventory quantities updated automatically when you buy or sell a product, move stocks across multiple locations and make necessary adjustments for damaged, missing, or wrong inputs. Integration with QuickBooks Online helps you to analyse real-time inventory valuation with respect to your balance sheet as you go about your day.
Make Sales & Invoices
GOIS Pro Quick Sales feature gives users an option to punch a sales order and get the invoice printed out or email to customers directly to build trust on your customers for your instant service. In addition, integrating with GOIS Pro allows your service team draft sales orders from GOIS Pro web or mobile app on the fields to estimate a job, and push that estimate to your QuickBooks Online account, once you get approval from your customer to get the job done, clicking a button can easily turn the estimate into an invoice and you are ready to bill your customer for work completed.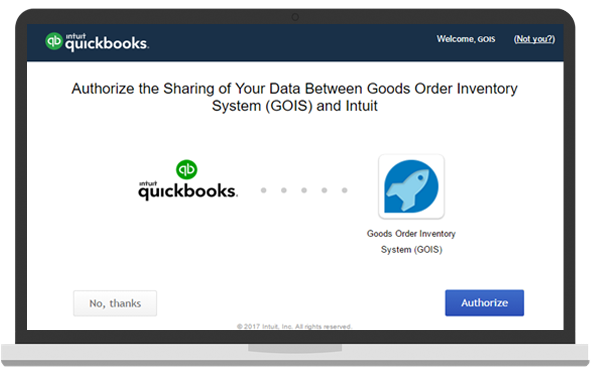 Streamline QuickBooks Online Inventory & Operations
Allow GOIS Pro to take care of tedious operational tasks like managing inventory, stock adjustments, assembling products, stock movements, syncing on-hand quantities across your stores, raising purchase or sales orders, etc. adds another level of flexibility to an owner by providing a global control on real stock movements. Further integrating QuickBooks Online with GOIS Pro records error free financial transactions of supplier and customers that helps forecast correct levels of stock demands and supplies to run your inventory efficiently.
Latest Blogs

Help Videos

Stay Tuned with GOIS Pro

Product Assembly/Composite Products

Transfer Orders for Bulk Stock Transfer

Packing Slips and Picking List

Email Notifications

Dynamic Email Templates
Interested in GOIS Pro Resellership?
We aim to deliver the best and most affordable inventory management solution to help our customers take their business inventory to the next level. If you feel that GOIS can beat any other inventory management solution available into the market or interested in selling a top cloud based inventory management system, just become our reseller to earn upto 50% flat margin on the leads you will be bringing to us for GOIS Pro.

To know more about GOIS Pro, Contact us at
MetaOption LLC
2500 Plaza 5, 25th Floor
Harborside Financial Center, Jersey City, NJ 07311
Phone: +1 (888) 745-3321
support@goodsorderinventory.com

www.goodsorderinventory.com