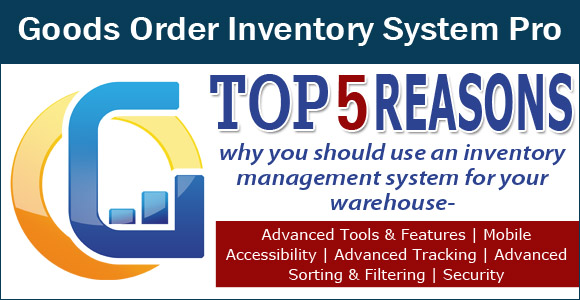 If you are running any type of manufacturing, trading or retail business, it is your responsibility to make sure that the total number of products or items, lying in your warehouse is well managed. You must also make sure that the inventory database of your warehouse's stock is updated at regular interval, so that there is no stock out or overstock situation.
It is well known that a well managed inventory record plays a major role in simplifying various complex business operations in an organization. The people responsible for running the business enterprise in profits always need to access the inventories, so that they can know the current working status of the enterprise. An advanced inventory management system also assists them in generating sales and profit reports.
Managing and maintaining a warehouse's inventory database manually on papers is a complicated task to do. And if your business enterprise deals in more than one product or item, it becomes quite impossible to do the same. Also, adding new inventory records, editing, sharing, or tracking them is a tough task. Following which, there are many warehouse management systems available around the marketplace, which makes inventory recording, tracking, sharing and management an easy task to perform.
Here, we bring you the top 5 reasons, why you should use an inventory management system for your warehouse-
Advanced Tools & Features – 

The warehouse management systems are supported by many advanced tools and features, which assist individuals and group in maintaining a précised inventory database. These tools make inventory recording an uncomplicated task, which can be done with an ease.
Mobile Accessibility – 

Various warehouse management systems offer mobile accessibility, which means that a user can easily access its inventory database on the go. One can run a warehouse management system on his/her laptop, tablet and Smartphones as well.
Advanced Tracking – 

A warehouse management system offers various kinds of flexibilities to a user. Out of which, advanced tracking is one. This feature enables the user to keep an eye on the current stock level, to be delivered stock, in-transit orders, damaged stock and more. The user can easily track all these records while s/he is not physically present in the warehouse. This feature is helpful for those business enterprises which own more than one warehouse in multi-locations.
Advanced Sorting & Filtering – 

The advanced sorting & filtering feature of any warehouse management system enables its user to access any particular inventory record of any specific product or item at once. The user can easily access its details like supplier's name, cost & date of purchase without any complications.
Security – 

The various warehouse management systems are password protected. This means that only an authorized person can view, add, edit or delete the inventory records. You can be assured that your confidential inventory database won't be lost into inappropriate hands.
Goods Order Inventory System Pro is an advanced inventory management application, which is being used by many small and big warehouses around the globe. This inventory software packs many advanced tools and features. To know more, Visit – http://www.goodsorderinventory.com/