If your product inventory is split up between multiple warehouses, you recognize how complicated and frustrating multi-location inventory management can be. Running out of stock in a warehouse can ruin your order fulfillment workflow. Inventory and sales counts can come out of sync too well. You simply don't have the time to hold up with counting your inventory for whole of the warehouses they're held in.
Luckily, there are some simple ways to build your inventory management, workflow go more smoothly when dealing with multiple warehouses. These modifications can reduce the time spent counting inventory, reduce out-of-stock and out-of-sync occurrences, and streamline the transport of your inventory through your supply chain.
The Advantages of Multi-Warehouse Operation
Many brands begin with a single warehouse to host all their stock — and that works for them, for a while. With one warehouse, it's easier to keep an exact count of all your inventory and prevent your supply chain simple.
Nevertheless, once companies begin to scale, having one warehouse in a single position may no longer ignore it. When a brand targets a growing worldwide audience (or even simply a large region like North America), shipping your items from a single warehouse may cause shipping delays for your clients.
There are also potential cost-savings — having inventory hosted at multiple warehouses near the largest geographic concentration of your clients can reduce transfer costs. Well let's look at a scenario:
If your only warehouse is in New York, but you own a rising contingent of clients in Los Angeles, the transport costs to get products across the continental U.S. regularly add up. All the same, if you opened a California warehouse, fulfillment costs could be far less expensive per order (even after factoring in the monetary value of the warehouse and logistics for your second warehouse).
The Challenges of Multiple Warehouses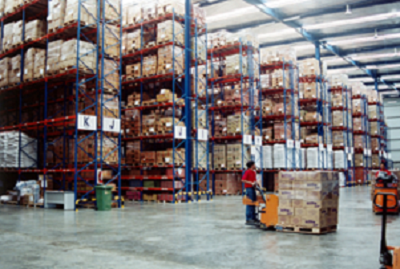 Although a multi-warehouse strategy has its advantages, using more than one fulfillment center can also present some serious challenges.
If you've already split your stock between two or more warehouses, you're likely aware of the most common frustrations of this strategy. Some of the greatest obstacles a business can face include:
Maintain separate stock counts per warehouse: When you have more than one warehouse, ensuring that all your products stay stocked can be a challenge. Inventory points and sales can quickly come out of sync. When you're working in one warehouse, it's easy for the others in your supply chain to be "out of sight, out of mind," which can lead to low inventory counts before you recognize it. Out-of-stock products can lead to supply chain inefficiencies and lost revenues.
Build an efficient reporting workflow: Reporting stock changes early and often is the best way to eliminate inventory problems. Nevertheless, counting an entire warehouse's stock can be an incredibly time-consuming job. That's why most warehouse teams avoid doing stock counts too often. Unfortunately, counting stock is a necessary evil when dealing with multiple warehouses, as varying shrink's rates and stock movement can quickly lead to inaccurate counts.

To avoid having to do full inventory count too often, you can implement cycle counting on a more frequent schedule. Cycle counting is a procedure that calls for counting small portions of your merchandise at a time. Since you'll just necessitate to set aside smaller amounts of time to check each section, you can go over your inventory more frequently without interrupting your daily operations.

At that place are a couple of different ways to organize your cycle counting workflow, depending on your specific demands. You could choose to grow high-volume sellers together and check those more frequently, or you might simply group sections by their physical location in your warehouses. In whatever event, the key to effective cycle counting is to keep doing it frequently then that your coverage is always as exact as possible.

Dispatch orders through the right warehouses: If your products are shipped from multiple locations, such as other warehouses or fulfillment centers, then you know how frustrating it can be to keep all of those shipments organized. An important component of a multi-warehouse workflow is ensuring that the right facility is shipping the right orders. When execute properly, this will ensure that your customers receive their goods as quickly as possible while you save money on shipping costs.

Cross-warehouse communications: Because warehouses tend to be some distance apart, it's impossible to have employees who run those warehouses jammed into one office. With remote employees managing each warehouse, companies often go into communication issues. Missed or mixed messages can make errors or bottlenecks. And a lack of face-to-face interactions can curb spontaneous discussions around streamlining or improving operations.
Mixing up files for different warehouses: When companies don't maintain separate file systems for each warehouse (like inflow, outflow and invoices), it's easy for orders and shipments to get mixed up between warehouses — especially if you use a centralized filing system.

Although these are just a few of the common challenges companies face, it's possible to operate multiple warehouses efficiently and keep your sanity intact.

Ready to give us a try? Sign up today for your FREE trial!