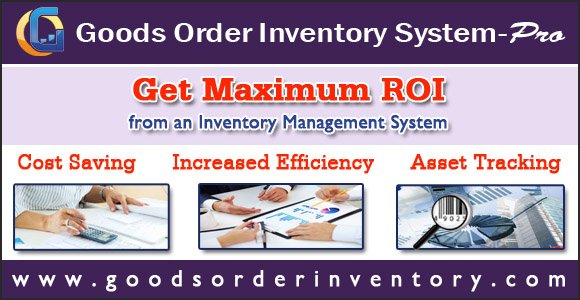 Inventory management has become a crucial component for every business irrespective of whether it is small or large establishment. Most businesses overlook the benefits of managing their inventory and end up losing customers and their brand image. We can begin by stating the meaning of inventory, benefits of inventory management and problems that can arise without inventory management software. This article also looks at various other aspects of inventory management and addresses how businesses can get maximum ROI from an inventory management system.
Inventory management offers business maximum return-on-investment by providing a pool of benefits. Return on investment is generally defined as a performance measure to validate the efficiency of an investment or compare efficiencies of distinct investments. Since inventory management software is a large investment for a business so determined its return on investment is important. No company would like to invest in something which will end up in losses. For an inventory management system, a company gets the amount paid in two to three months only. The return on investment is in the form of improved performance, enhanced efficiency, rising profits etc.
Before moving on to discuss the benefits of inventory management system reflecting maximum ROI, let's look at what exactly is inventory?
What is an Inventory?
Inventory is a warehouse or storage location where a business maintains its stocks or products to ensure their easy delivery to customers. With increasing demand of customers, the need to manage inventory and control it comprehensively has become extremely crucial. Hence, in order to manage inventory, highly efficient systems have been developed which enable the businesses to take full control of their inventory even when they are on the go. Here are a few benefits of inventory management, which effectively reflects that inventory management results in maximum ROI to the business.
Benefits of inventory management
Inventory management has been recognized as an important part of every business. Every business needs to act smart and wants their customers to be happy and keep coming back. In such case, inventory management becomes even more crucial. It can be said inventory management has seen more as a necessity than a trend in present scenario. Some of the benefits of inventory management are:
Saving cost: An inventory for any business is its largest investment along with an efficient team and locations. Hence, inventory management help businesses cut on their expenses on unnecessary parts. It also helps companies to maintain lost sales to avoid situations like 'out of stock' and keep customers happy.
Increased efficiency:

After cost savings, next big advantage is increased efficiency. Workers don't have to run here and there when some order comes. They can simply walk in the warehouse and get the order without wasting much time.
Insights to your inventory: Every business owner wants to control their inventory irrespective where he is. Hence, managing inventory can let you track the products easily. You can easily figure out which stocks are low and which are popular.
These benefits provided by inventory management clearly reflect that inventory management systems offer maximum ROI. However, there are many companies that neglect these benefits and have different perceptions. Most inventory management systems are expensive and hence small or mid size business feel reluctant to invest. But inventory management is important for small and mid size business equally as for large establishments. There are a few points that must be remembered before considering any inventory management system. Companies that overlook the benefits of inventory management system can end up possessing a mismanaged inventory and poor sales.
A few points to remember about inventory management
Inventory management is no rocket science and hence, it can easily be achieved by deploying a computerized inventory management system in business. By definition, inventory management system is a computer based system which is used to serve various purposes such as tracking orders, sales, invoicing and deliveries. It has become a prime necessity for every business since it replaces the manual forms of managing inventories in the form of hard sheets and excels. To understand various inventory management techniques, it is crucial to know why it is important.
Foremost, a mismanaged inventory leads to increase in funds which can be easily directed for other research and development activities of the company.
Secondly, inventory management helps to reduce storage cost. Storage space is expensive, but an organized inventory can easily find space for additional stocks effectively.
Thirdly, it keeps your customers happy. Since inventory management avoids situations of outages then customers feels valued and keep coming back.
Fourthly, in an organized inventory, you would be able to make out the things that have been kept for long. It ensures those things don't get spoiled and saves the cost greatly.
Fifthly, inventory management helps you to maintain your scattered inventories. You can maintain multiple inventories easily and control them fully from anywhere.
Inventory management systems are loaded with pool with features that eventually help businesses reap the benefits mentioned above. Some of the features are order management, asset tracking, service management and product identification. These are key features, but there are multiple other features present in the different inventory management software.
Order management: Every business wants its stocks to be updated as soon as it goes out. Hence, inventory management systems can be effectively programmed to enable managers when stocks are out or about to finish. It helps business to avoid 'out of stock' situations or invest too much capital in inventory.
Asset tracking: Stocks can easily be tracked using an inventory management system. Now days, inventory management systems have barcodes scanner that tracks a product using its barcode, serial number, etc. With this, efficiency of workers is increased.
Service management: Customers are an asset for any business. Hence, keeping them happy is of prime importance for a business. Companies that are service-oriented can use inventory management software to track cost of materials they use to provide services.
Product identification: Now days, inventory management systems comes with barcode scanner which easily tracks the information about a product. Some of the inventory management systems also have radio frequency identification tags and wireless methods of product identification.
These features eventually help businesses to get maximum return-on investment. Cost of inventory management software is easily overcome in a few months with improved results. Inventory management systems are also available free for different devices. Businesses that can't afford expensive systems can use these free applications to reap their benefits.
To conclude, inventory management in every business holds crucial importance. It is as important as interacting with customers. A managed and organized inventory can only help your business be efficient and make customers happy. With this, customers feel satisfied and eventually it increases the brand image. Especially in eCommerce businesses, businesses wish to display their inventories to different channels, hence its management is important. The ability to know what exactly is happening in your inventory is important for customer service and satisfaction. It will eventually help you to see trends and make purchasing decisions of buyers better.
If you have also overlooked the benefits of inventory management system so far, it is the best time to deploy it in your business and get maximum ROI.
Goods Order Inventory System Pro is an advanced inventory management system, which can be accessed on various hardware devices and software platforms, including Apple iPhone, iPad, iPod and Android Smartphones and Tablets.
To know more about GOIS Pro, Visit – http://www.goodsorderinventory.com