In today's competitive environment starting a new business need careful analysis of external environment and competitors. One decision can either be productive or may lead to high business losses. Every business in some sense wish to organize its inventory and would love if manual error prone workflow can be ignored with any efficient alternative available to boost a workplace with some automation. So choosing a right inventory management solution is one of the major factor that can affect your business strategy and productivity.
Learn how one can utilize our time to help others…
Since peoples trust more on friends, family, business associates, etc. So if you feel that your friends might be interested in exploring GOIS Pro system for free to automate their business inventory, we are with you to take a step forward and help them by taking an advantage of GOIS Pro Referral policy.
How GOIS Pro Referral Program Works?
Whether you are a Business Owner, Business Admin, Business Manager or a Sales Executive, if you have access to a GOIS Pro account, you can now email referral invites to friends, family, business associates or to any of your social networking circles. Every new registration on GOIS Pro that uses the unique referral link/code assigned to your account will earn you referral points which then can be redeemed for various referral rewards. Referral rewards include options for gift cards, coupons and GOIS account credits, etc.
Point Allocation Matrix
Earn 10 referral points for every new 'Trial' registration on GOIS Pro. Earn an additional 250 referral points ($25) for every 'Trial' user who converts into a 'Paid' registration.
Earn 250 referral points ($25) for every new 'Paid' registration on GOIS Pro
Please note, each 10 referral points is equivalent to One U.S. Dollar (USD $1.00). All the earnings under your account can be redeemed against various referral rewards. Referral points can also be credited against your GOIS Pro account.
A Quick 2-Step Process-
Step 1: Login to your GOIS Pro web account
Step 2:
Referral ⇒ Invite Friends ⇒ Enter Friend's Email Id ⇒ Send Invite
Referral ⇒ Share On Social Network ⇒ Select Desired Network ⇒ Share

Recommend and Earn
Referring under your social network or business circle will surely help GOIS Pro to build good customer relationship and also give you some benefit as our valued customer to earn points and utilize those points to pay your GOIS subscription bills, rewards, gifts, etc.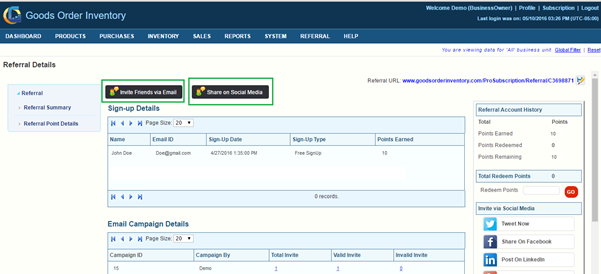 To know more about GOIS Referral feature, feel free to contact GOIS Support.
Contact, Goods Order Inventory System Pro
MetaOption LLC
574 Newark Avenue, Suite 210
Jersey City, NJ 07306
Phone: +1 (201) 377-3150
Email: support@goodsorderinventory.com
Visit – www.goodsorderinventory.com